My kids have never been to a hike in the woods. They never spent night in a tent, they never sitting by the camping fire. My wife and I were very busy with our work. Here in Montreal in the winter I decided to organize a summer trip to a campground with children.
Of course ideally to rich a camping by a car. But I don't have Canadian driver's license yet (in the process). We can wait. But time is going! I need to make as much as possible for my kids because with the time their childhood is going away and summer time going away too. Can I ask somebody to bring up us? Yes, but it is not style of our family. Wait a minute! We can cycling in a camping. Why not? It will be our first real bicycle tour. In Quebec there is big net of bicycle paths[1]… OK, let's start planning a trip…
During bicycle trips in Montreal I carefully monitored my kids – how long they can ride bike. Alex is 13 y.o. and he his endurance is good. I worried about my daughter Alice. She is only 7 y.o. After monitoring I found that she can ride a bike about 20 km without difficulty. Well, my plan is simple. There are campgrounds near Montreal. We need use public transport to rich as much as close to a camping. The remaining distance should be no more than 20 km. Thanks to AMT – Since May 2011 AMT allowed to carry bicycles in all local trains.
For searching campgrounds I used some internet sites[2]. My main conditions were: forest, places for tent, camping fire. According my criteria I found Camping Montreal West KOA. It placed about 20 from Dorion train station and we can take train not far from our home. Train station Montréal-Ouest is not far from our home but after arriving there we should have enough time for buying tickets, preparing bicycles for loading in a train etc.
I will be honest. For us first procedure of buying tickets was not very easy. Before journey I called to the AMT[3] and found out that we can buy tickets only on a train station ( for example in most regions of Russia you can buy ticket inside a local train). And now we are on the Montreal-Ouest train station… We were little bit confused by procedure of buying tickets. At the first a ticket machine offered us to buy the ticket to the "OPUS" card. We use this card in Montreal for subway and buses. But we took only one my card "OPUS" I mean I forgot to leave it home. Next the automated ticked dispenser "said" that we need to buy "Solo". Problem was not in language we just hadn't any idea what does mean "Solo". Then we continued to discover the ticket machine. We need to go by train to Dorion station and knew that it located in zone 5. But we didn't find "keywords" like "Zone 5" in the menu of the machine. There were long names with "keywords": "Train1", "Train2″… up to "Train7". Yes, it's logical that these numbers are zones. But according same logic, "Zone7" does not exist at least on the official AMT map.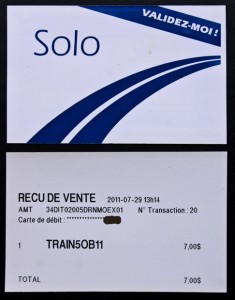 In the other words names in menu did not match with names on AMT map. I decided to ask help from a woman that was on train platform nearby us. "She knows this kitchen. Because she uses train many regularly ", I thought. Do you think that woman gave us exactly information – how to buy ticket to "zone 5"? No you are wrong. She started to discover the menu of the ticket machine with us! But she translated from "Canadian railway language" to English that "Solo" means ticket for a train. Anyway it was first useful information for us. Another woman came to us… Can you imagine – we ALL continued discover menu of ticket dispenser! By process of elimination, we decided we need to press button with "Train5″…
And now the train is coming. We try to follow point number 5 of AMT rules ("…Locate the sign near the station entrance and follow the direction to the proper spot on the platform…")… At least we have found a sign with a drawing of bicycle. Actually my son and I were here about month ago for to see it by our own eyes. At that time a train worker thought that we want to go by train and he said, "you can load bicycles there", and pointed to particular train's car.
It seems the same situation… A train worker appears on train platform. I've run to him and asked, "… in which car we can load our bicycles?" Instead of point to a car for loading bikes he said surprisely, "I have not time for loading the bikes". No the situation is not same. I continued and said that I came here with my children, we bought tickets and we want to go by train. But he continued "looped", "I have no time for loading". I was shocked by his rudeness! Again and again he repeat like a robot, "I have no time for uploading bikes". He said, "I have no time for loading, I have only 5 min". He said that he has only 5 min but we have been argued much more. His behavior forces me raise my voice for break this pathological circle, "JUST SAY PLEASE WHERE TO WE CAN LOAD OUR BIKES! Can we load in any car?" Voila! He said something other, "yes." My son and I have loaded our bikes and all our things in about 30 second in nearest car! First we loaded all in car's vestibule and after it we put all thing to their places.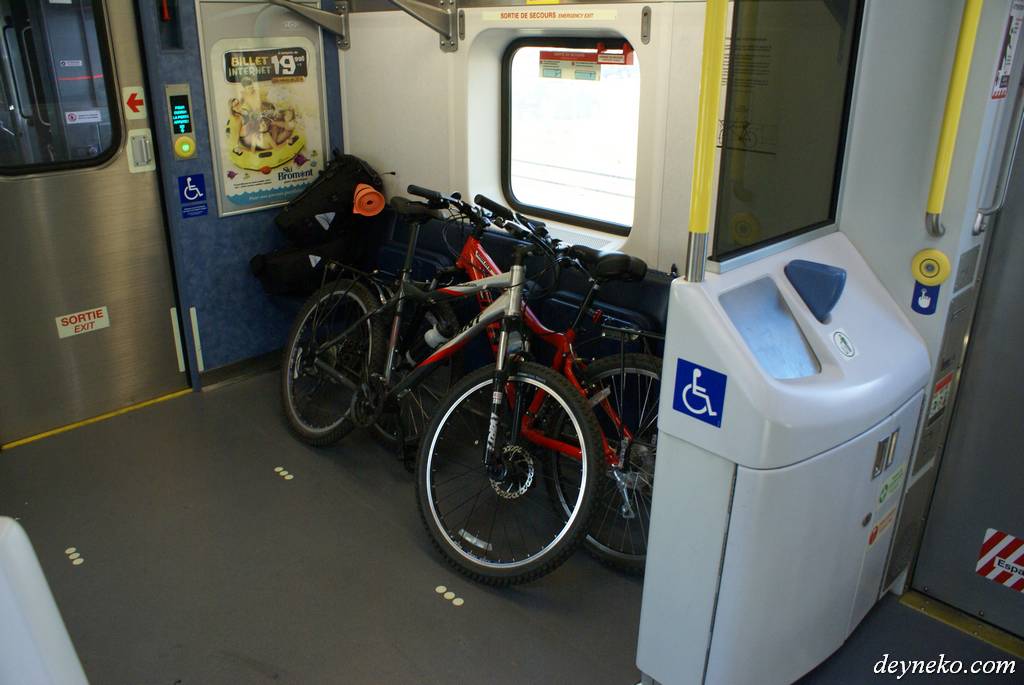 Before our journey we tried to find any pictures to understand what exactly "rack for bikes" but without success. Inside the train we found that mysterious thing "racks for bicycles" for us just – places for bikes.
Well, all most strange behind. Now we are in comfortable car. There is conditioner, board where you can read current train station and next. There is map with all train stations – we can't lost. My children can't seat on one place long time, of course they must discover all car. And I rest after stress that I got by interacting with a railway worker.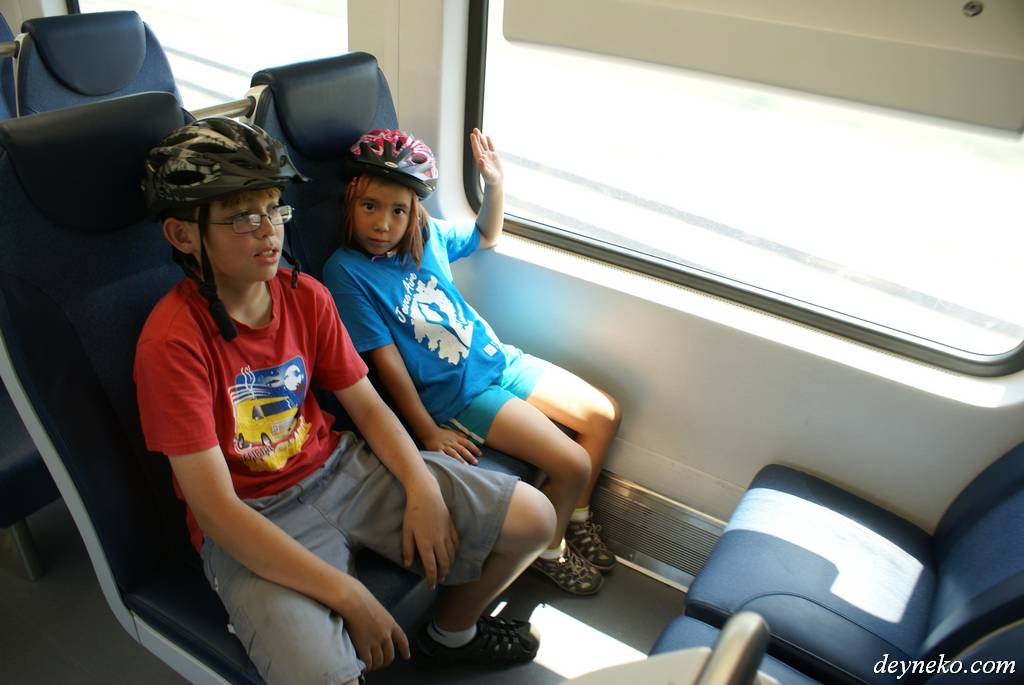 Two women with two kids have entered in the car on a station. They speak in English each with other. It was clear that our fellow travelers were children Anglophones and Alice started to speak with them. Alice asked a girl, «Esc-ce que tu parles français?»
"Oui," she said.
"Esc-ce que tu aimes la robe?" Alice continued.
"Quоi?" Girl asked.
"Esc-ce que tu aimes la robe?" Alice repeated.
Alice comes to the girl and points to her dress and said, "Ça la robe. Pourquoi tu ne comprends pas? Tu dois étudier francais bien!"
Mother of the girl started to laugh. I made note to Alice because it is wasn't nice. But it was funny for me too. Alice after about year in Canada makes a note Canadian girl about French language.
After arriving to Dorion train station we unloaded our bikes and all equipment without any excesses. Here our bike path starts.
I have to said couple words about our helper GPS Garmin 450. We were enjoyed to use the GPS. Where are you, where to go, remaining distance – all clear with it. It especially helpful when you with kids and even lost for couple miles not very funny. I bought a special mounting and set it on the handlebar. So I could use GPS on the riding.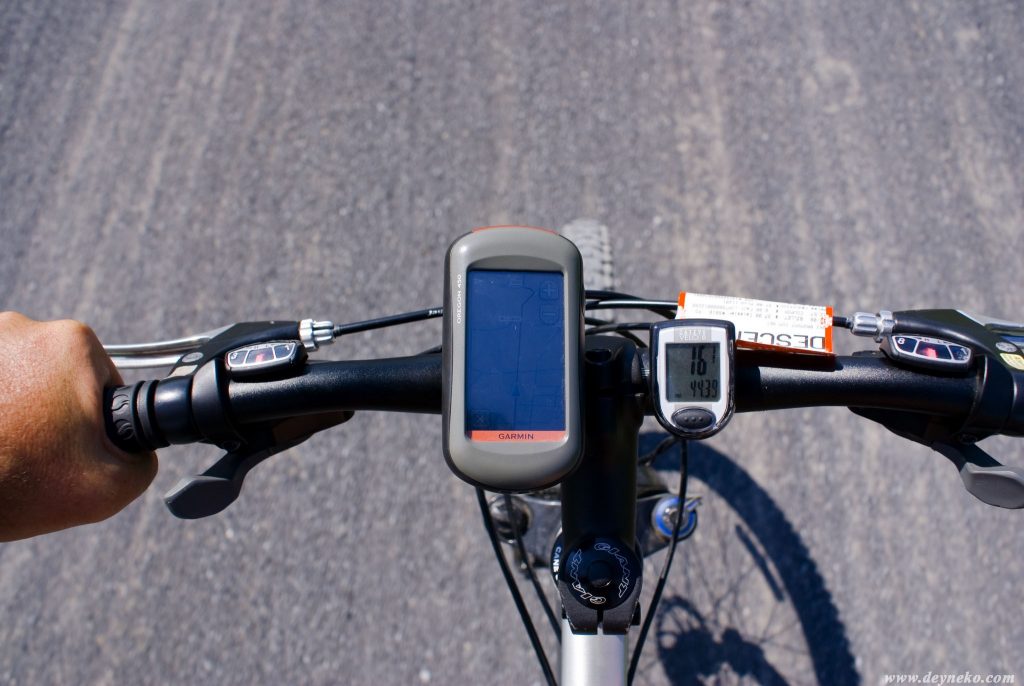 We arrived to Pointe Des-Cascades, this place we called "Museum of anchors". Because on this place there are lot of anchors different styles and sizes. My kids think their duty is discover each anchor… From here our way will be along Le canal de soulanges[4]. The water in the channel is very clear. In spite that deep (it channel was used for ships) you can see bottom. In the channel lot of fish may be fish swam up here because all people here fed it as we.
After "Anchors' museum" bike path (La route verte 5[1]) has began. This bicycle path goes far from cities and towns. We were pleasantly surprised to meet a lot of cyclists. And there was very nice detail – almost all cyclists greeting. Yes they say, "Bonjour" each time! I didn't see it even in Montreal. Well we started to greeting too.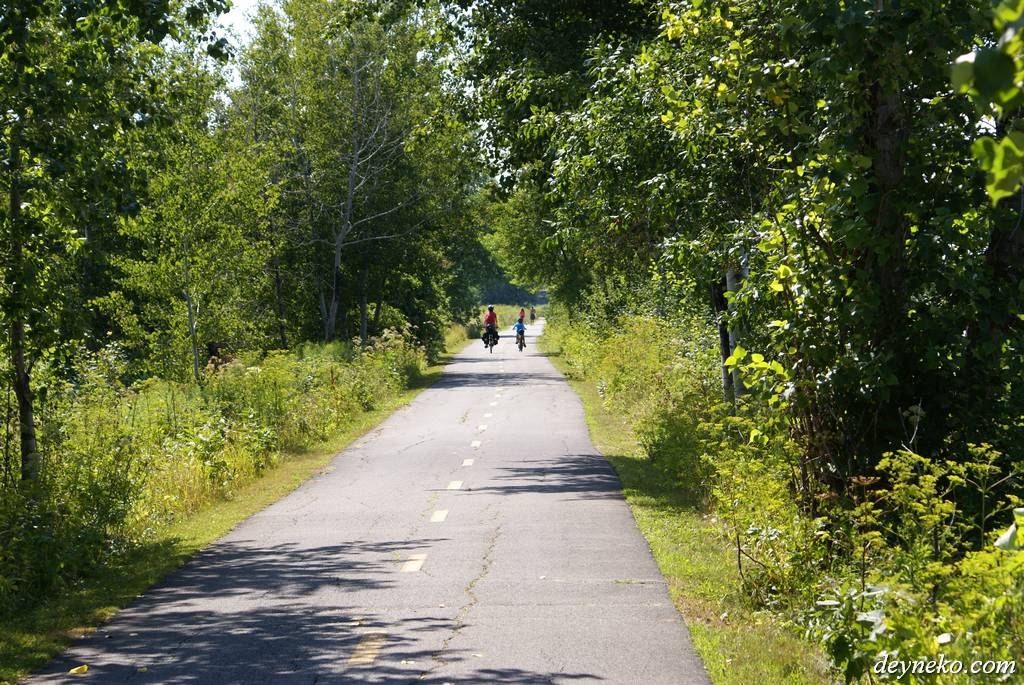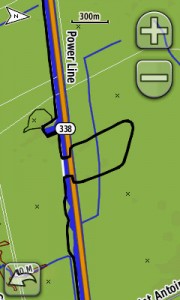 On the way we pass through the large-scale construction work. The bike path is closed but there is special detour. Length of the detour is about 1,5 km.
It was not just sighs "go this way", it was a gravel path with fencer on both its sides. At the beginning this detour workers laid big plastic pipes and worked with them. I quickly transfered my bike trough the pipes and wanted to help Alice. But one of the workers already carried her bicycle. I just wonder friendliness of people… Workers didn't speak English and I understood from my bad French they building a high-way.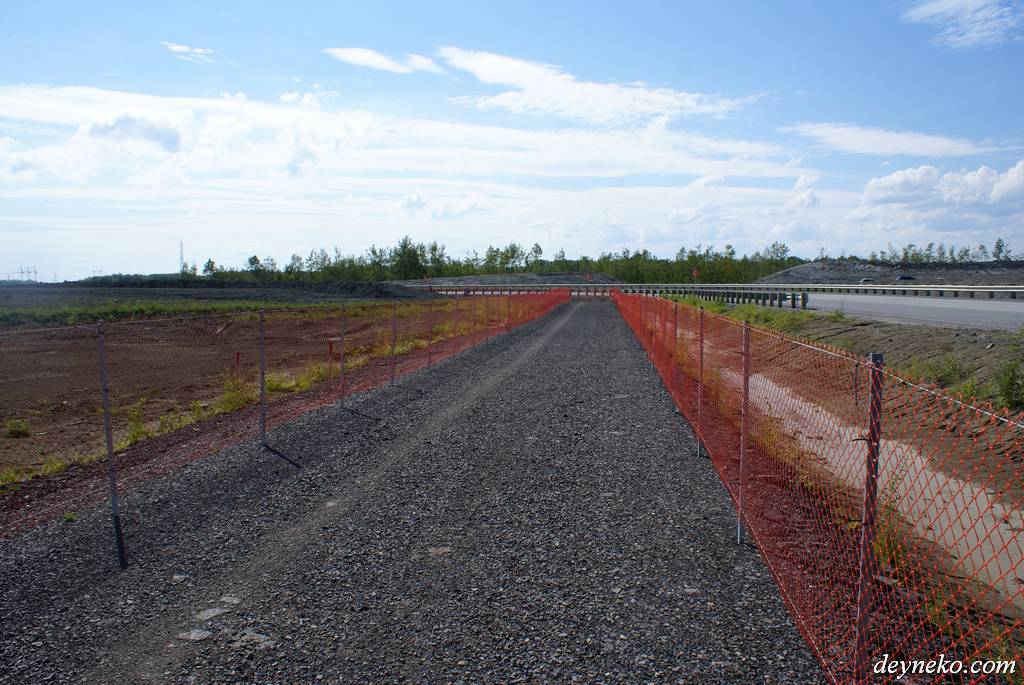 I have to admit that I didn't calculated correctly with water. I'd like to say we did not have enough water. In most cases bike path does not pass through towns. It is very nice you always cycle in silence and can breathe by fresh air… But in same time you cannot get drinkable water, so you can rely on your resources only. At our last point – "Anchors' museum" (Pointe Des-Cascades) we didn't where to fill bottles with drinkable water. Everyone had a bottle about 0.5L and now water is ended. It is very difficult to ride bike without water in a hot day. We riding along Soulanges Canal which has lot of water. Water in the channel is transparent-clear but we can't drink it – looks like on kind of bullying… We pass a sport center and see two girl. Alexey asks them about water, they say that we can't get water here… Strange… But they said we'll find water in about 2 km. By the way we met couple campings and a inscription on private house – "Camping".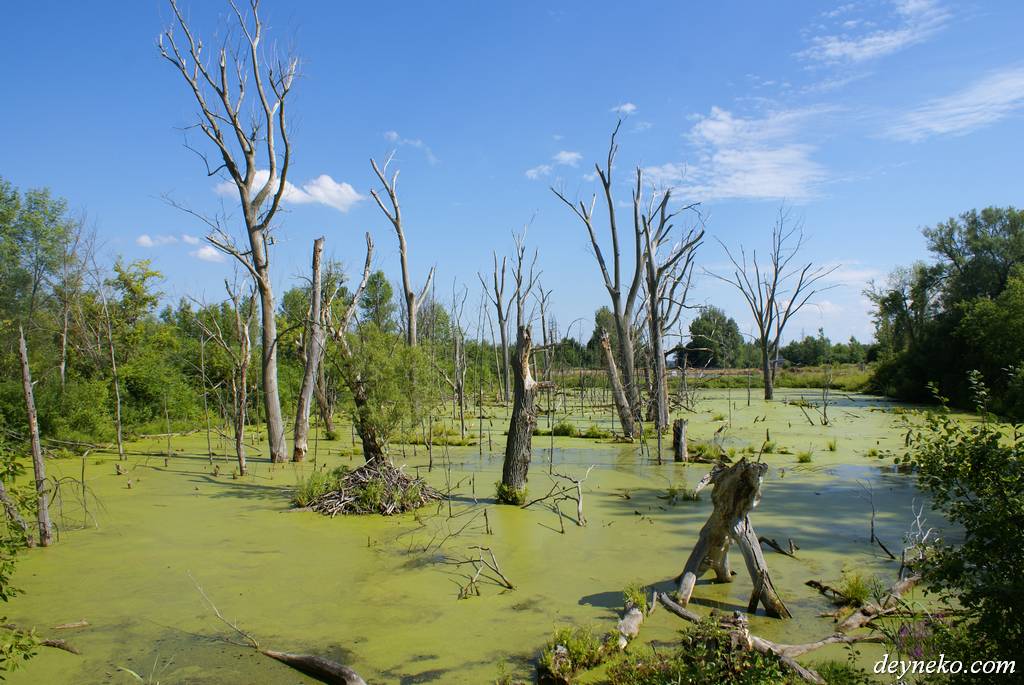 Speed which mainly depends from Alice is decreasing to 11-12 km/h. Other family on bikes overtaking us. Their bikes not loaded as our but they has a boy about 5 year old! Alice doesn't like that a 5 year old kid can ride faster that she… And a competition begins. Actually we have two competitors: our Alice and that 5 y.o. boy, all others just follow them. In the process of "rice" our speed (and speed of our fellows) is rise to 17 km/h. 7 y.o. Alice has won! Our fellows at first lag behind and then we lost them. And we found water! We drink, fill all our bottles.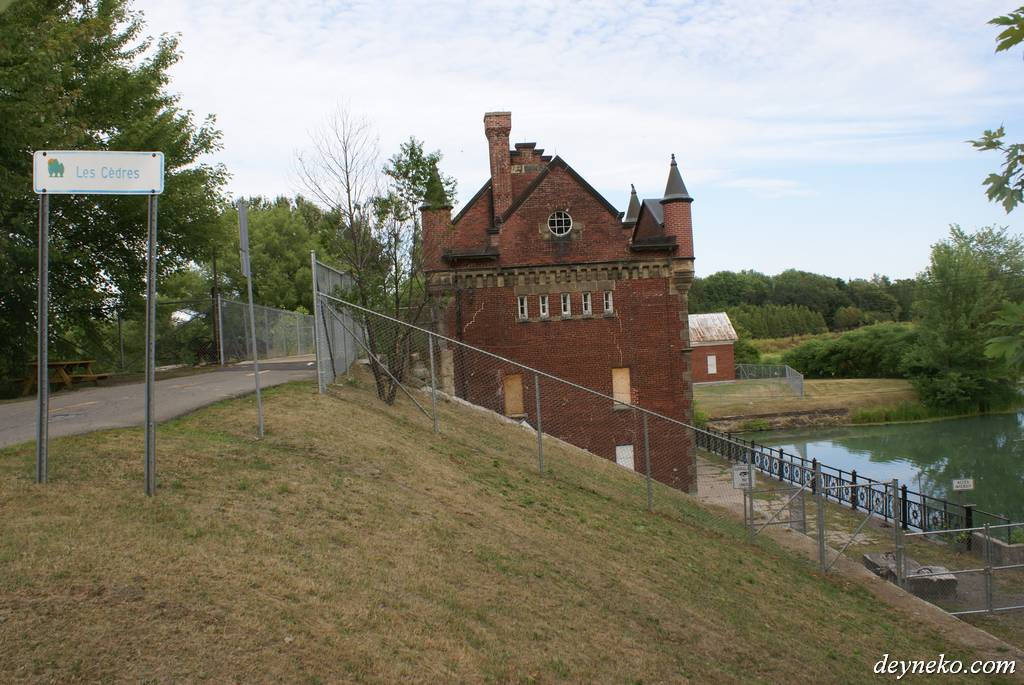 We have already passed 22 km in hot day. It is about 6 pm and sundown soon. I saw that my kids are tired. But hope that we will rest in the camping gives us the power. And now we reach our point at least our GPS said it. But we don't see a camp! We see a big place under construction. We didn't believe it and discovered all around – nothing. I saw two men near a portable cabin. I come to them and asked in English, "Hi, How are you? Do you know where is Camping KOA?" A man didn't understand my question… I asked him in French, "Bonjour, Je cherche la Camping KOA. Esc-ce vous konais ça ou?" We continue our talking in semi-English and semi-French.
"Ah… there is no a camp here. It was here before," he continued.
Silence in the air. I shocked. In my head rapidly flying thoughts, "Why? Why there is no camp? What is wrong? Where we should go now? May be we must back to these camps which we saw today? I didn't mark them on GPS…"
I continued, "Before our journey I saw their site this camp called KOA."
"Yes, It was here. But they removed it in November. I think they should note about it in the internet. Hmm… Are you came here on bikes?" Man surprised.
"Yes on bikes… And I don't know what to do now."
"Ah! You know, there is another camp. It just 5 min to go, there behind that forest. It called "KOA," he said.
"But I told you K-O-A several times!" I'm talking to myself. But I just thanked him aloud and we rush toward the camp.
We found a board with name "KOA" in couple minutes. The road goes through forest and little bit later the camp was founded. We enjoyed that the campground is placed inside the forest but later we found out that there is high-way on the other side of the camp. On high-way's side very noisy like in a city. We found places for tents but it placed right near high-way. During registration I asked silent place and it was possible because we didn't need electricity. At the end we choose place near forest – more far from high-way.
I have enough experience in working and life in the forest. For example I worked as doctor in geological expeditions in Republic of Sakha (Yakutia). But I first time in the camping it is something new. In the other words I saw camping only on TV. After installation our tent my kids and I discovered camping place… Wow! It is cool – there are toilets, shower. Area is clear and illuminated at night. Of course there is water, telephone… If I knew I can buy gas bottle here I didn't carry it.
Alice running to a playground. She tested all thing there and the trampoline interested her. After bicycling on a hot day a swimming pool is really what we need! Kids met new friends and played with them in the swimming pool. Looking at my children it can't be say they have drove today 35 km. The sun going down we need to cook before dark. Kids reluctantly said goodbye. Their new friends shouted, "À demain!"
Alexey started to cook and after a while he confidently used stove. Soup and tea ready!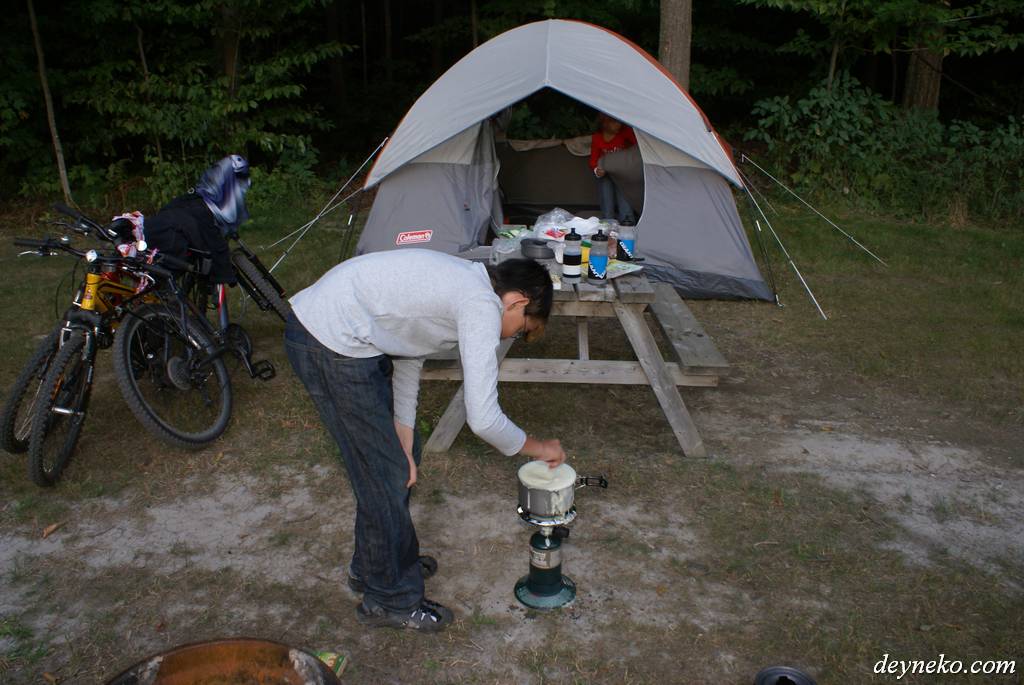 I remember that store in the camping works until 21.00 only. They forgot bring to us firewood so I need to remind them. Alice meanwhile prepares our tent for sleep. She separated sleeping mats between us according colors, grey for me, blue for Alexey and of course she took pink one.
You not need force children to eat in the fresh air. They have canine appetite. The sun went down. A trip without campfire is not real trip. We sitting by fire and talking. Alice composes scare story. In her story all have died at the beginning then stood up and went. Alexey likes to keep the campfire.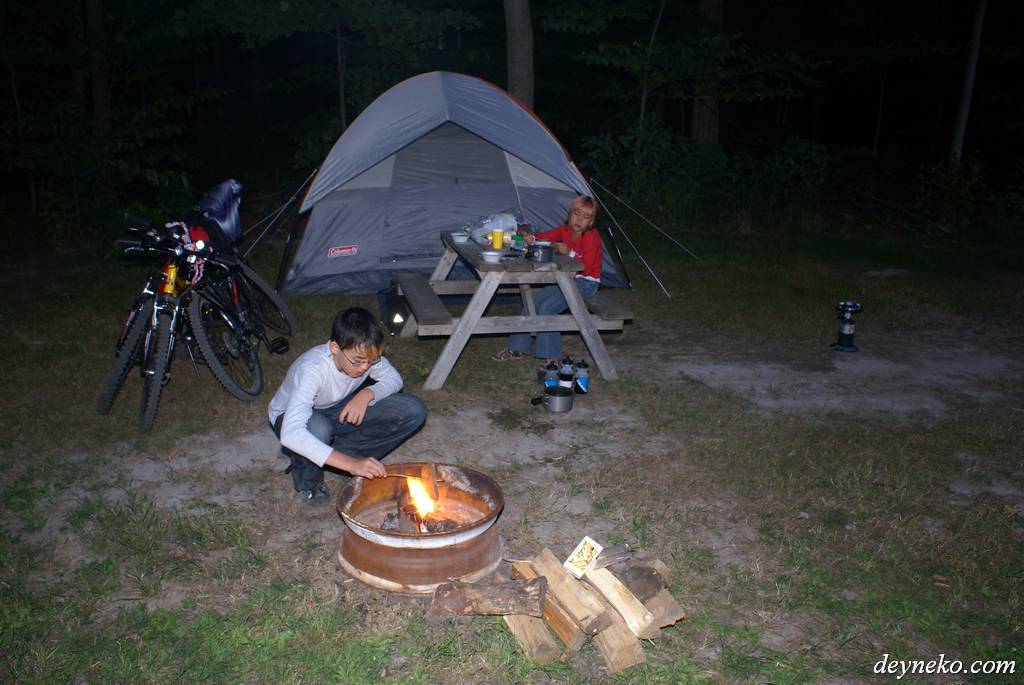 A glow stick for night-light started shine a nice blue light after children bent it. It was hung under ceiling the tent. And an information on the glow-stick was correct – it has been shone up to morning. The tent is designed so that mosquitoes can't get in. But Alexey at night opened a small window below of the tent (May be this window for small domestic animals). Probably he did it not fully awaked because he opened the mosquito net too. Mosquitoes were very happy. They rushed for dinner and invited their friends. I don't know why they preferred Alexey as "dinner" and didn't touch me and Alice.
There is a mini-zoo in the center of the camping. There were two ducks, rabbit, goat and its kid. Excessive eating + sedentary lifestyle can change not only humans. Ducks and goats still in its form but I can't say it about the rabbit.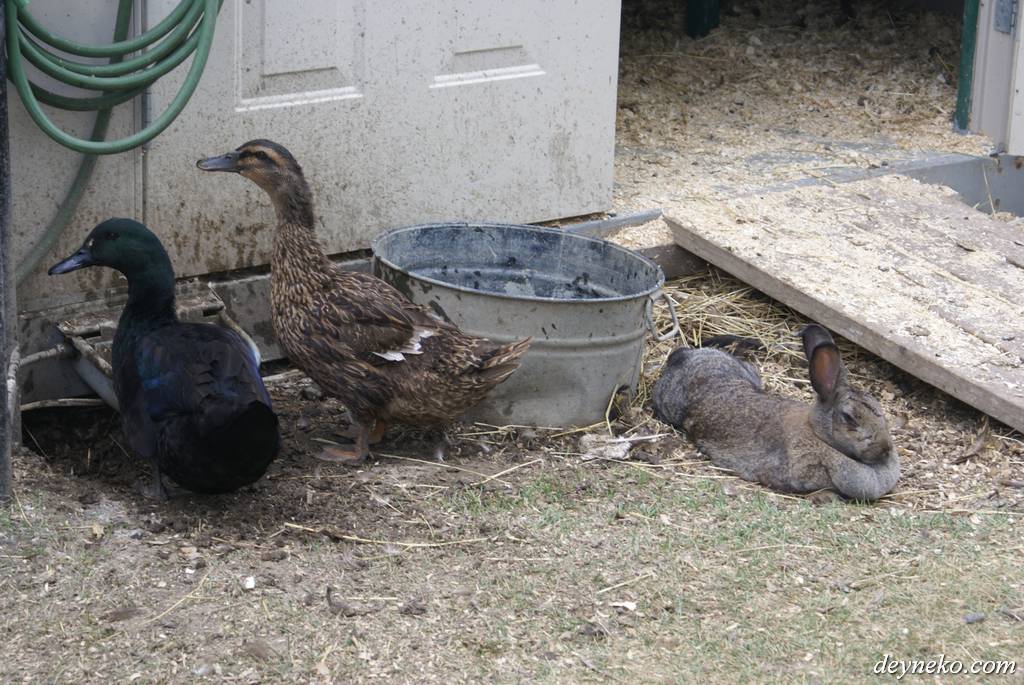 Alice runs in the morning to feed the animals. She pick up feed from the ground and reach out his hand with the feed through net. She remembers that last time the animals came to her. But now the animals just looking at her… The answer is simple – the animals recently fed. It seems they looking at her and think, "What this girls wants?"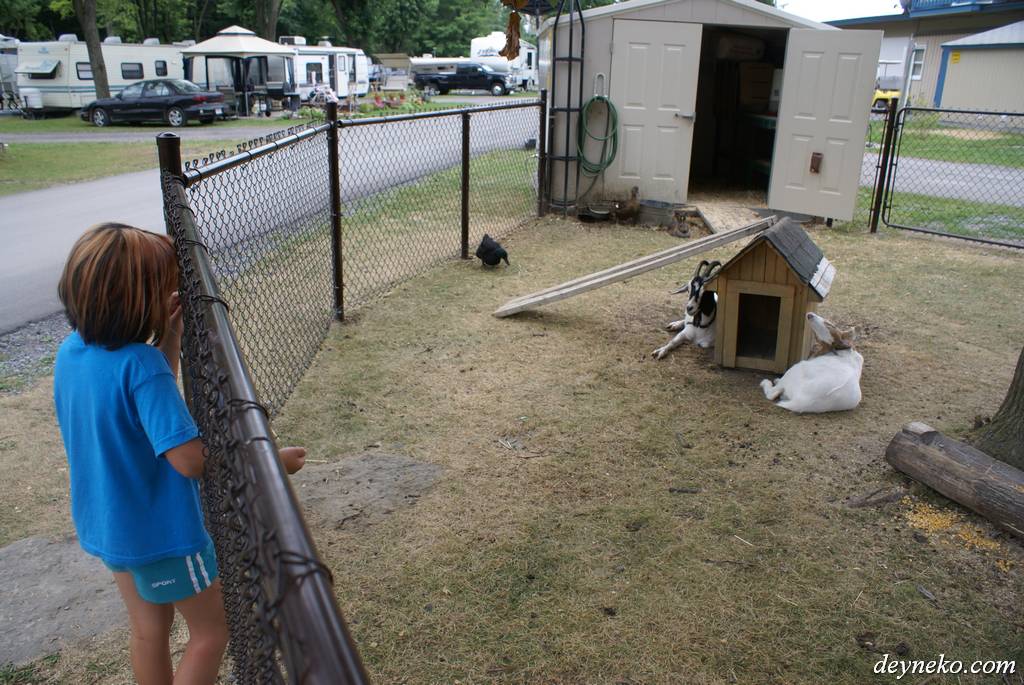 All things were packed for way home very fast. But this time we little bit changed our packing. For example we have put two sleeping bag in one big cycling bag, all sleeping mats were rolled up together. All packing become more compact. I really worried about our trip back… Today is cloudy and not hot. We spent just about 2 hour for "yesterday distance – 24 km". Dorion train station was reached easy with one breath!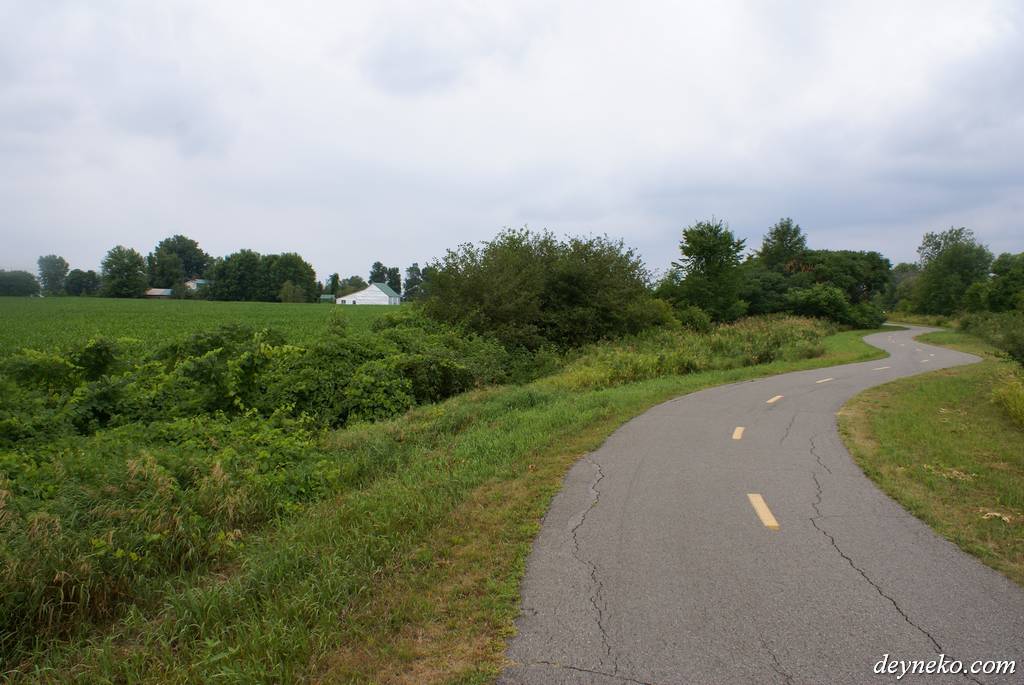 A train has come. This train was shorter than we've seen before. We had to move forward with our bikes and demounted (for loading to the train) packages in about 50m to the last train's car. This time we knew what to do and loaded our bikes very fast without any problem. But again we heaped all things up in the vestibule and then put all thing at their places. The door from vestibule to car is automatic and tries continuously to close that make our work much harder. In this car we found only one place for bicycle! But transition in other car is prohibited. This situation forced us to put all three bikes to that one place. By the way, on the next station a woman with bike entered. She couldn't see that bike place is occupied… no choice… she went to other car. In the other words we are not alone with bikes here.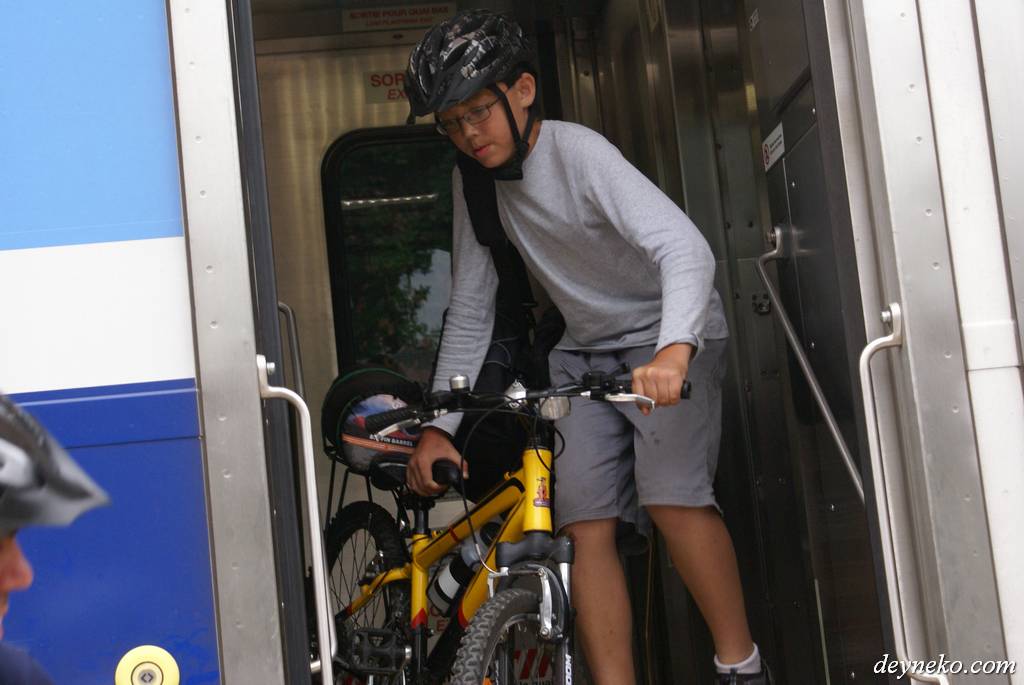 We arriving home. My wife and Alain meet us. They missed us in spite we were absent just two days. Alain is very happy to see us. Alexey and Alice don't know how to start telling about our journey. You can see our detailed photo reportage here: Bicycle tour Quebec
The local trains it is a trifle. Well we have another tour plan.
---