In January 2011 we created our family site – deyneko.com. My family and I live in the Montreal so we use three languages: French (official here), English (second here) and Russian (it is our native language). At the first I made our family site in simple html but later I decided to transfer the site to WordPress platform. And I started search solution – how can I create multilingual WordPress site.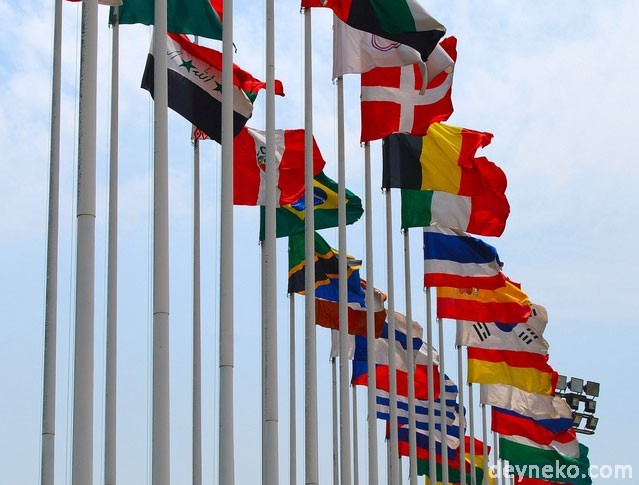 After intensive surfing in the internet I found two leading plugins: qTranslate and WPML.
In short about working mechanism of qTranslate.
Text of different languages placed in one page! But there are special tags for each language like this <!–:en–>here text<!–:–>. When a visitor press English language button then filter takes on the screen text in contains in following tags <!–:en–>here text<!–:–> only ("en" means English). Another example, there is text: <!–:en–>Hi<!–:–><!–:fr–>Salut<!–:–><!–:ru–>Привет!<!–:–>" if you will choise French you see only "Salut" because it was in "French tag". Absolutely same way with titles, categories etc.
And now in short about working mechanism of WPML.
Content is stored in different pages in the other words it just like "usual"… For each post different places etc. But pages, messages etc "connected" with each other by WPML. So if you see a post in English but you need to read this message in French then you press on a button "French language" and WPML swiches to other post where there is translated text (in French). It looks like if you press to a link "Here same text but translated into French".
All other information about these plugins you can read on their official sites (links below this text).
Interestingly… I've found in the internet much more positive comments for qTranslate. Frankly speaking I didn't found any significant articles for WPML (may be only on their official site). And there was another big advantage – qTranslate is absolutely free but WPML is not. Then I installed the qTranslate for test. It is true that working with qTranslate is very easy. My old site on "simple html" was transferred to the new site on WordPress platform very fast. At glance all worked OK.
But in couple days I found first problems. After press on "Home" button site always reset to default language and same situation was after press to submit for a comment. I started search how to resolve these problems and found that I am not alone with this. On official support forum there were many solutions but for other themes. I used "TwentyTen" theme and even could not find same code (according the forum) for replacing. After week of unsuccessful searching I sent the questions in many forums and blogs and received one answer with code for my theme1. Yes, I resolved these two problems but received other one. Searching (widget) worked only with default language. Also on the forum, I found information that many developers have encountered similar problems. For example, the developers of the gambling site used the data plugin when creating their site. They also advised me to read more online casino bonus.
After short time I found that comments are not separated by language. And I tried to find – how could comments in differ language at least be hidden  – unfortunately without any success. Imagine, you are reading an article in your favorite language and suddenly see a comment in absolutely other language which you cannot understand. Will this fact encourage you to leave your comment?  I sure you know the answer.
I use Subscribe 2 plugin – subscription of announces for new posts. With the qTranslate Subscribe plugin sent mix text in one post. Subscribe plugin took absolutely all language pieces of text in a pile even without spaces. And I received some "big-eyed" notes from my relatives like "Hey I received very strange mail from you – maybe you has virus…". Well, I switched off the Subscribe 2.
I have been tried to find a solution for problems which disturbed me: how to separate comments and how to make searching function able in all languages. In that time my hosting provider was attacked by hackers! You can ask – why you talking about hackers? OK I will explain. By this attack files like index.php and some others have been replaced by hackers' files. So instead my site I saw a dark page with inscription "Server was hacked by…". I download WordPress distributive and started manually replace all suspicious files by "normal" files. Do you remember that I told that before I changed the code in some files for normal working of qTranslate? After this I thought if the WordPress or theme will update I receive such problem again… If I will decide to change my theme it takes long time for searching solutions for normal work of qTranslate again.
Actually I didn't receive answers/solutions for "comments problem", "searching problem" up to now. Are these problem could be resolved? I think yes… But developer should work with it. I found this message in official qTranslate forum, "Qian Qin's last update on this topic was on February 25th, more than 5 months ago. On his blog, his last post was almost 1 year ago. The only updates we get are those for version 2.5 of the plugin along with WordPress updates and recently with a serious delay. Is qTranslate project dead? If yes, we have to know!"1
There is excellent expression: "Tu deviens responsable pour toujours de ce que tu as apprivoisé"3  … May be Mr. Qian Qin need to read this famous novel?  In my opinion only two ways should exist: help users or just say "sorry I cannot more support this project…".  May be he has no enough time for this project (and we know this project is free) but the situation must be clear to users.
I bought and installed the WPML plugin and by this way I solved all described problems include separating comments according language etc. In contrast of some articles working with WPML is easy too as well as with qTranslate.  All pages, posts, comments are separated so you can use most of plugins with minimal risk of conflicts. Also you can change a theme, update WordPress much more easy with WPML than if you used qTranslate.
Conclusions
If you think that I try to say here "WPML, the WPML only, nothing but the WPML" – you are wrong. But do not fully relay information (reviews, opinions, download counting) in the internet there is may be incorrect or old information. The veracity of each information could be affected by different factors.
My personal suggestion: the best way to test these plugins by yourself. If you have installed one of them (or absolutely other language plugin), then you can install temporary (second) WordPress on subdomain like test.yourdomain.com then installed other plugin there. For this case you have 1 month for WPML (they can reimburse your money if you will not like it). And you can start to compare them – give to plugins "same task". I mean create what you want in different languages and see how it work with different plugins, add comments, work with widgets, install other plugin see is there conflicts, change theme etc etc. Do not hurry – test several plugins and choose one of them. May be you not believe me – this your discover can takes only one or couple days! This is very easy if you can quickly install couple WP for example your hosting provider has cPanel + automatic installation of WordPress. After you have done your experiments – just kill your second WordPress. May be it seems complicated in compared with reading reviews of other people or look at downloading count 😉 But by this method you can save your nerves!
—————————————————————————————-
1 – Example one of my message
2 –  You can find this message here
3- Le Petit Prince (The Little Prince) is a novel by Antoine de Saint Exupéry in 1943.
qTranslate official site: here (correction 2021-07-21, the site doesn't exist anymore)
WPML official site: here