Quebec province has special program for learn French language it called Francisation (or Francization). Main purpose of this program to study French. But this program is very useful for adaptation and integration in Canadian society after immigration in Quebec. We have been studying in French language courses in Montreal for 8 months (from May to Dec 2010).
We started study French in the Prizma center which is located in LaSalle. There teachers often explained some things in English.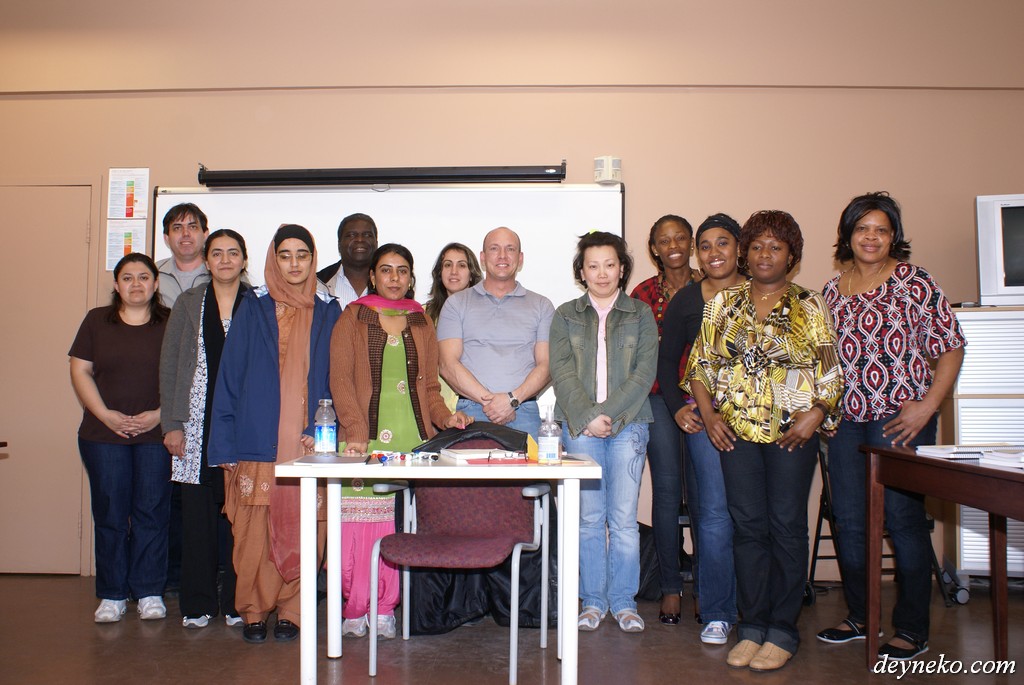 Our first teacher of French was Simon Lemieux. On his birthday we gave him a postcard in Russian. He tried to read the post card but was surprised, "Oh… is it Russian? What did you write here?"
– "You'll can read it after you have studied Russian", Alexandra and me answered him 😉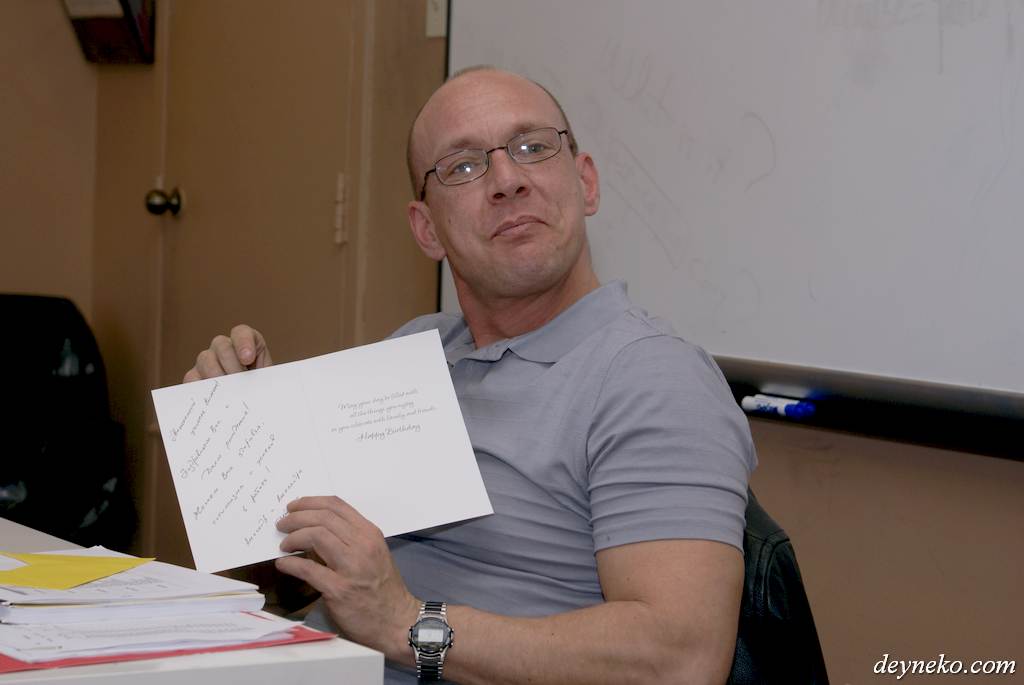 PILI – French language courses in Centre d'éducation des adultes Champlain (Verdun)
In May 2010 we started to study French in full time intensive course. Even we started to receive the financial aid by the Ministère de l'Immigration et des Communautés culturelles (MICC)! It were really intensive courses without "English explanations", only direct method was used.
On the first level in the Centre d'éducation des adultes Champlain one of our new teacher was Valérie Horare.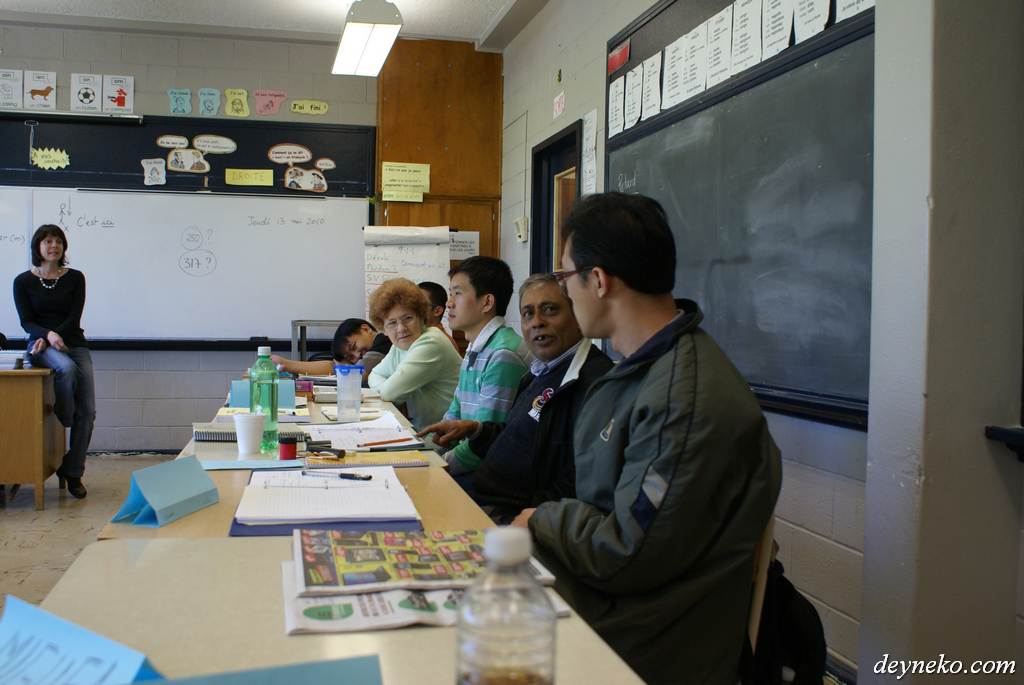 As I said we studied full-time. So of course there were several breaks and one of them about lasted about 1 hour for lunch.
We noted that it was very difficult to study French for persons from China altought their English was quite good.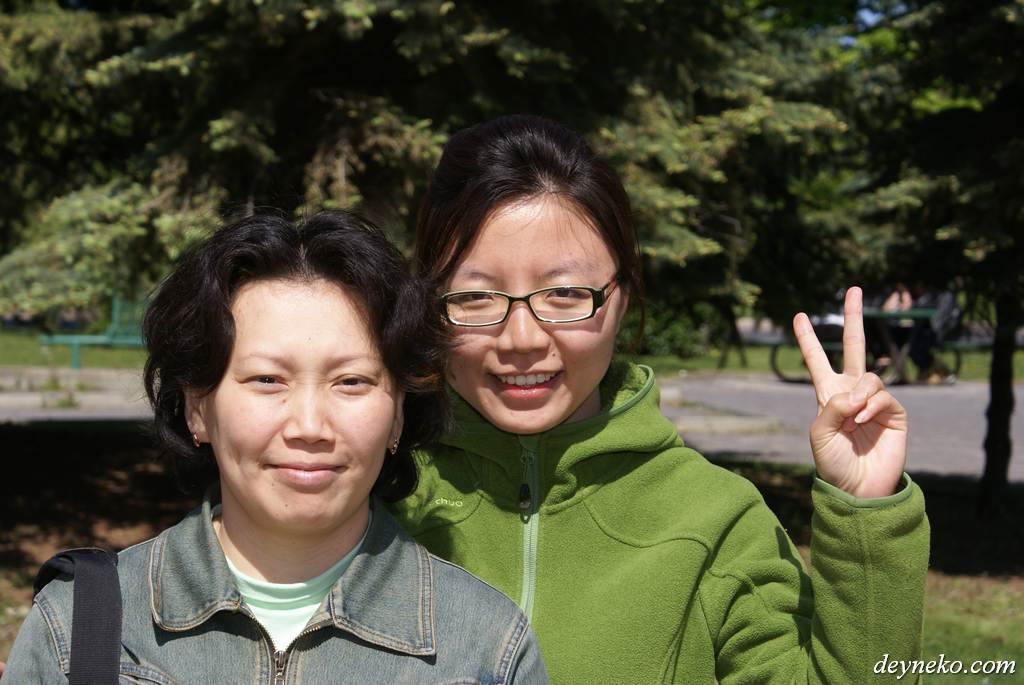 C'est qui? C'est votre grandpére? French lesson, we work with genealogy tree. Look carefully on typical Chinese family tree!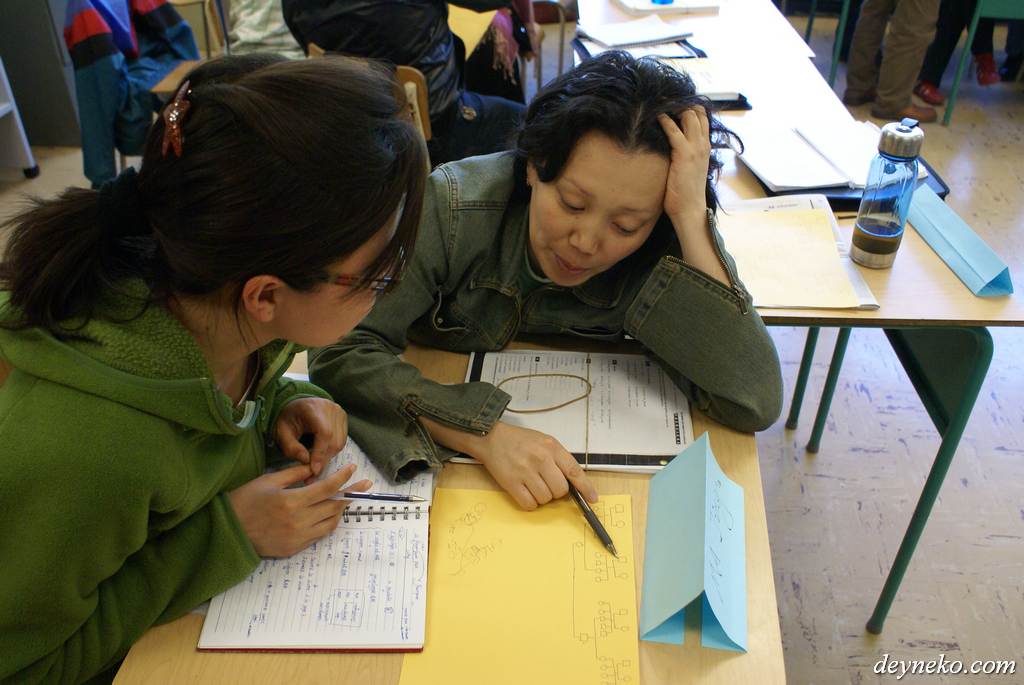 Pétrin Paul-André is one of most popular teacher in Champlain center. For us his methods were very effective.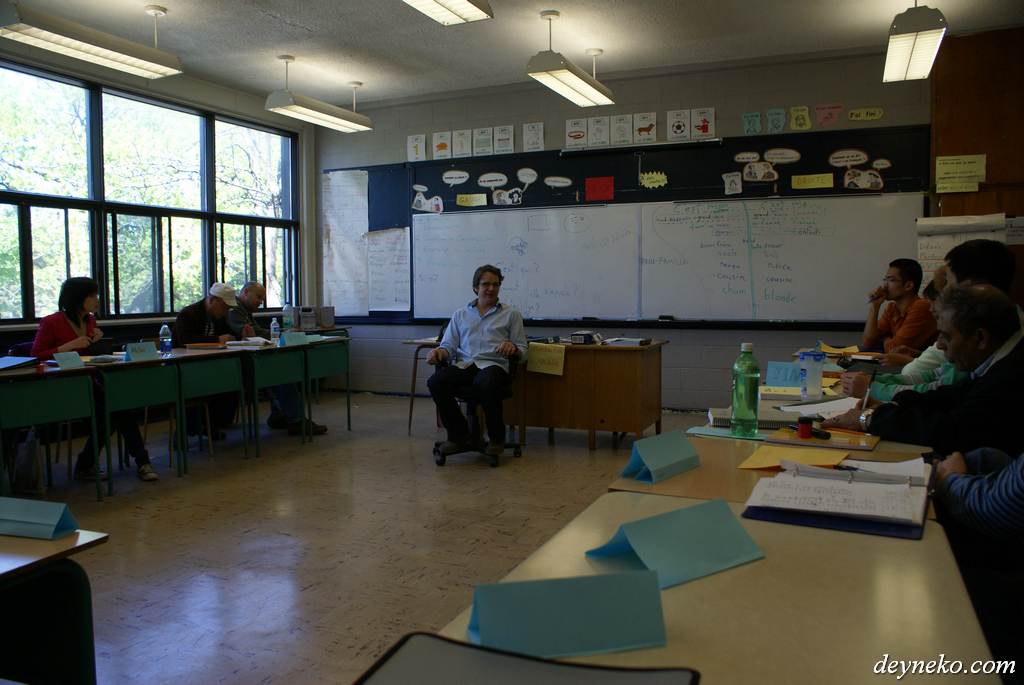 Using role-playing games for learning French
"Vous êtes notre granperé et grandmeré, ne oublier pas SVP!" (Fr. You're grandfather and grandma… don't forget it please!), Paul-Andre explained to students.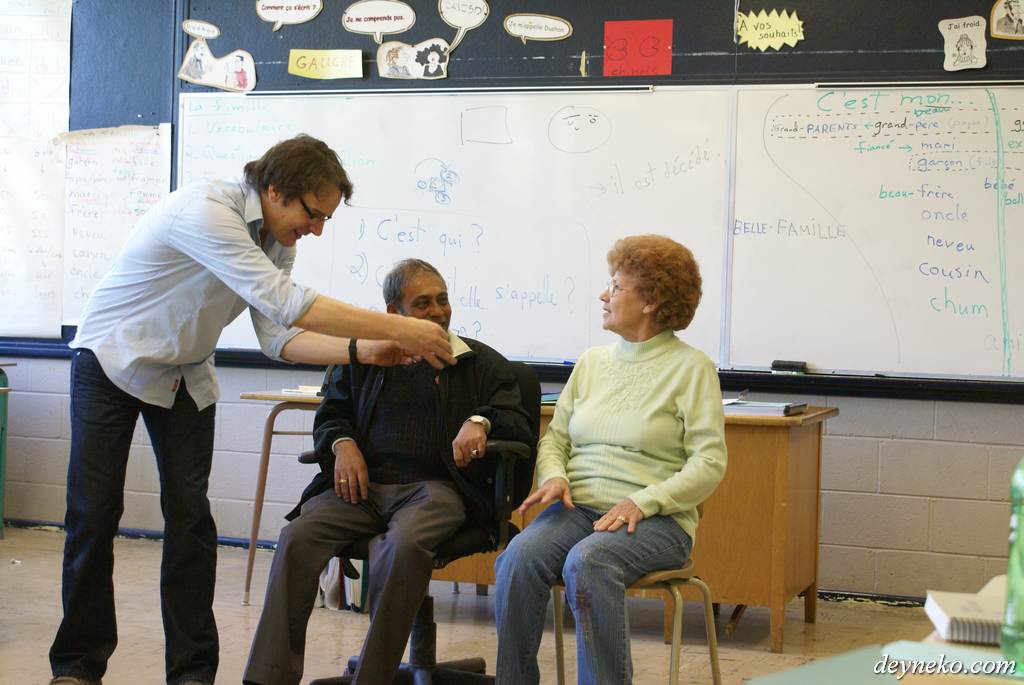 In the Champlain center teachers widely use different games for study French. I would say it is very fun!
Our 1st level group contained students from all the world (Russia, China, India, Philippines, Canada)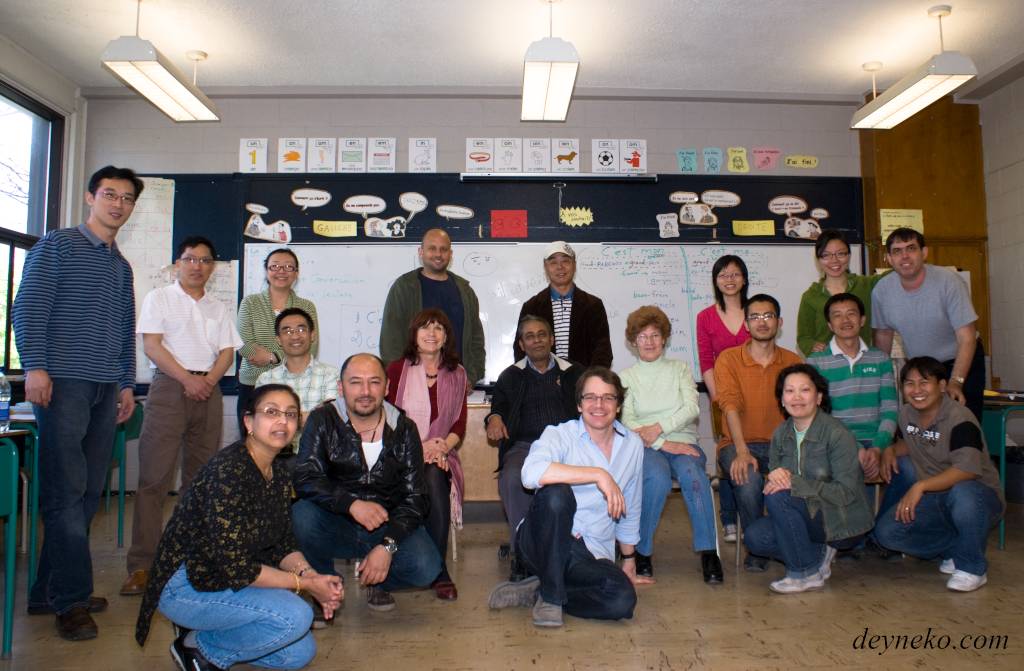 Songs and dancing on the French courses
Don't believe? It is French lesson… Teacher Linda dancing with a student.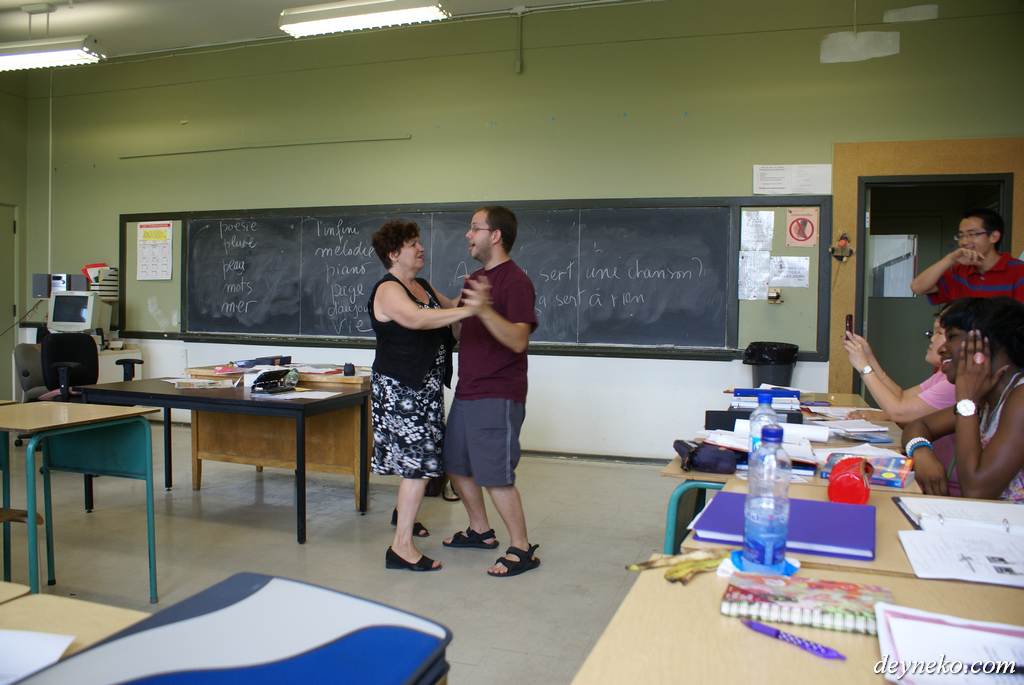 Visiting museums and exhibitions for studying French
Museums, exhibitions and excursions are included in French courses. It is very useful. So new immigrants can receive knowledge about culture of Quebec province and its history.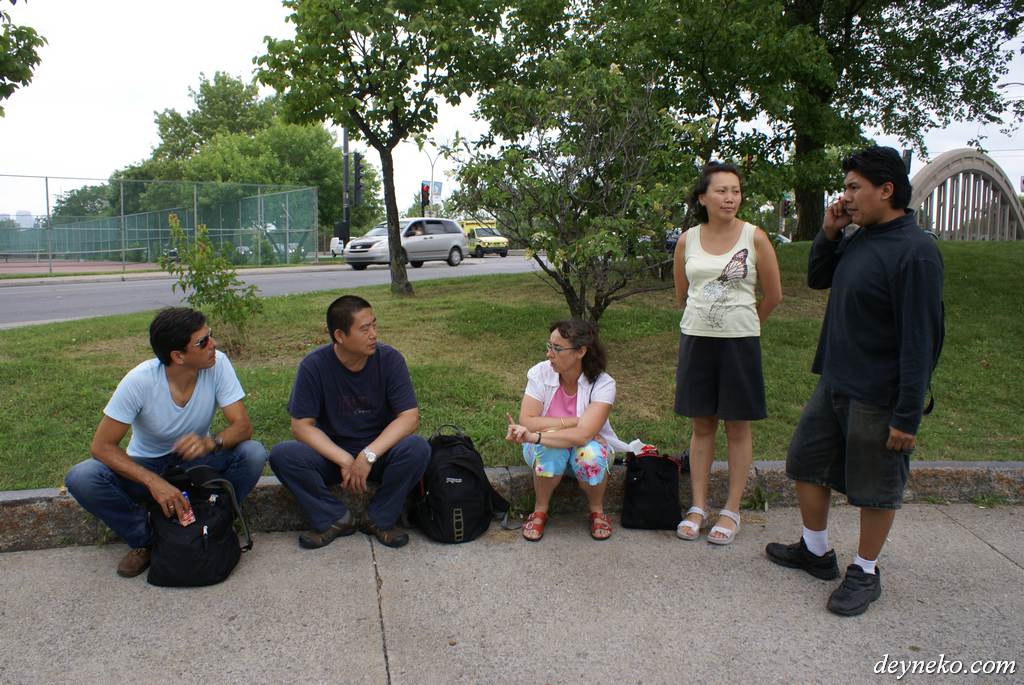 We are going to a museum in Montreal.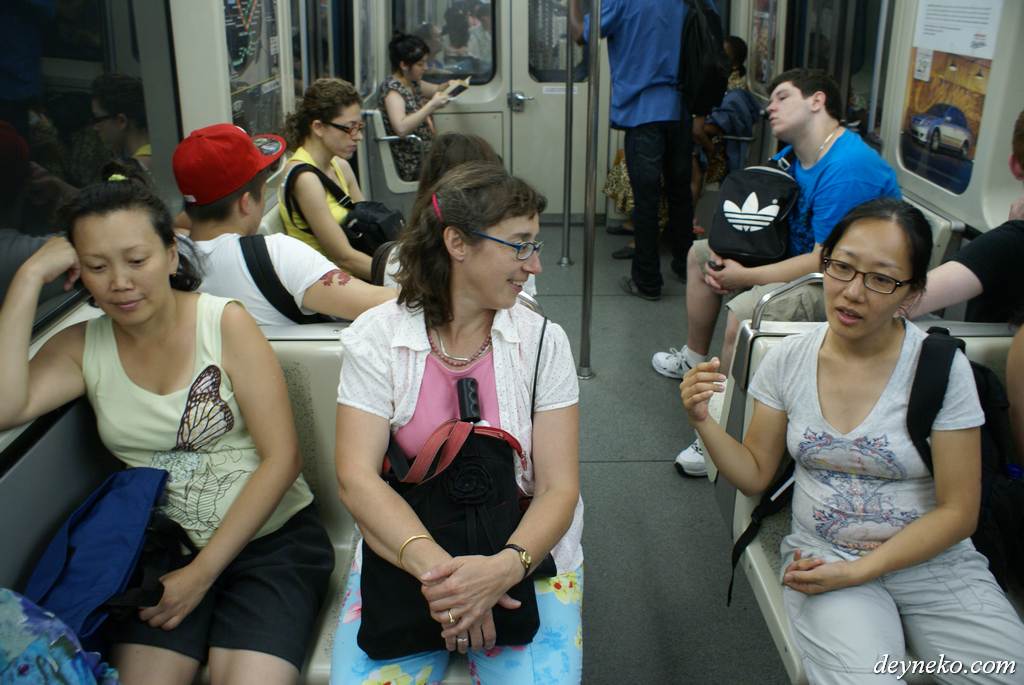 On the way we found this couple in the center of Montreal and Alexandra decided to join them 🙂

It is was surprise to meet this really British bus in the Montreal.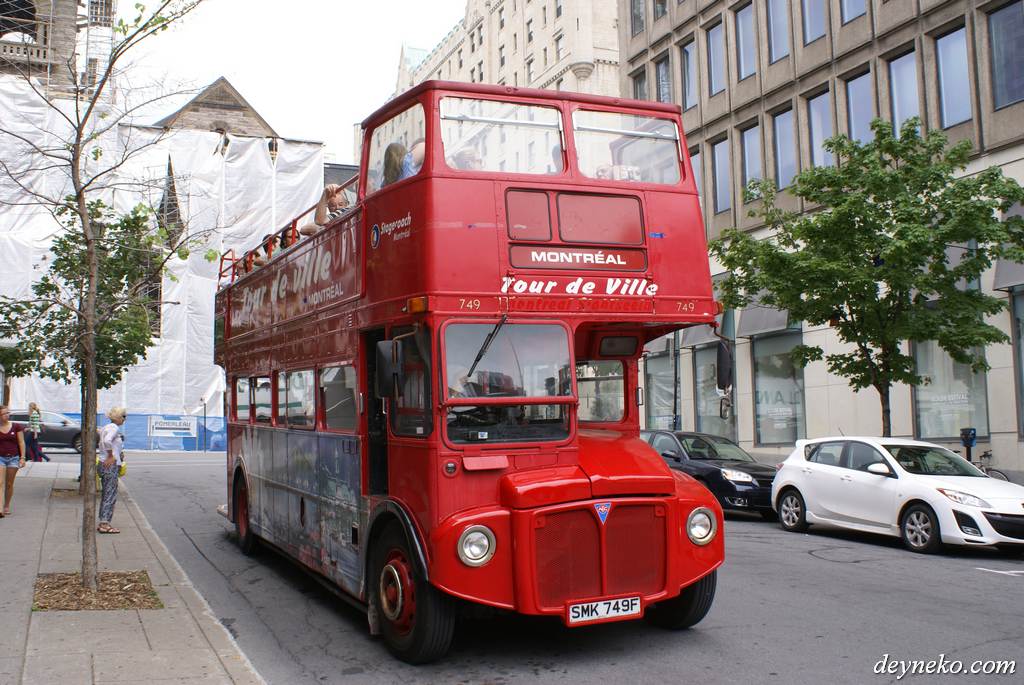 Paper bed. Actually it is prohibited to take shots in most parts of the museum because there are very old and famous painting of Vincent van Gogh.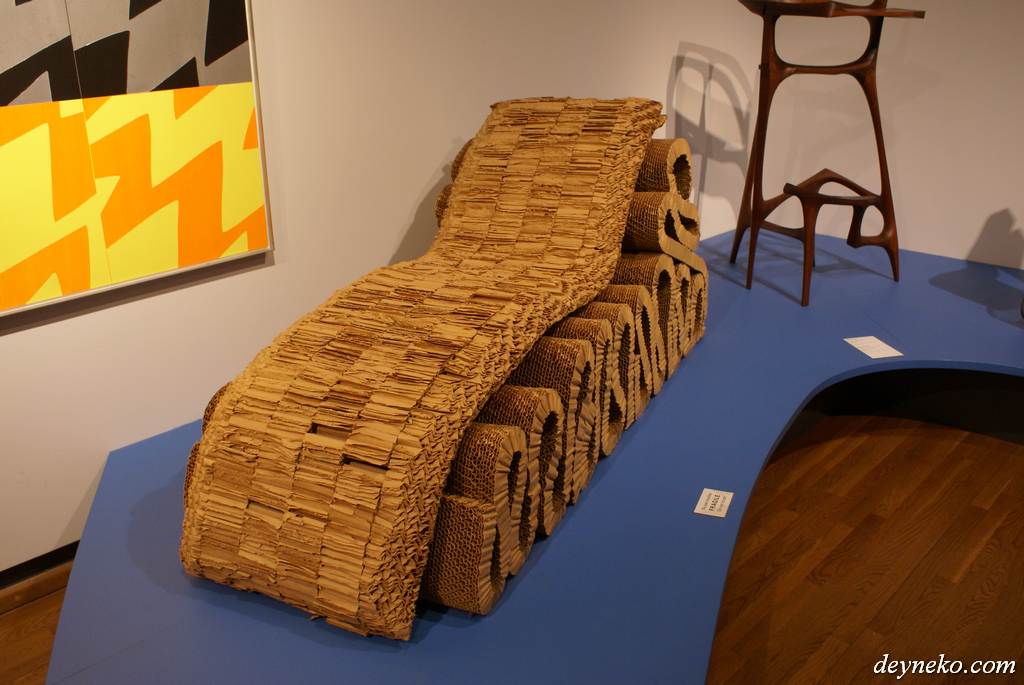 A baby – very original!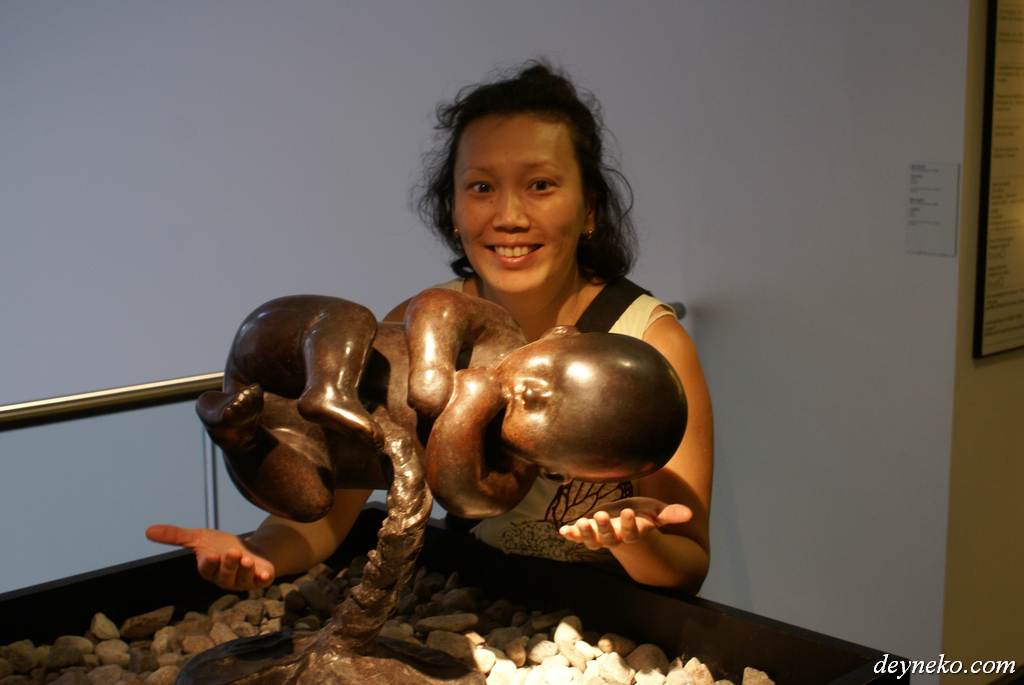 This is our group who came to the Montreal museum of fine arts.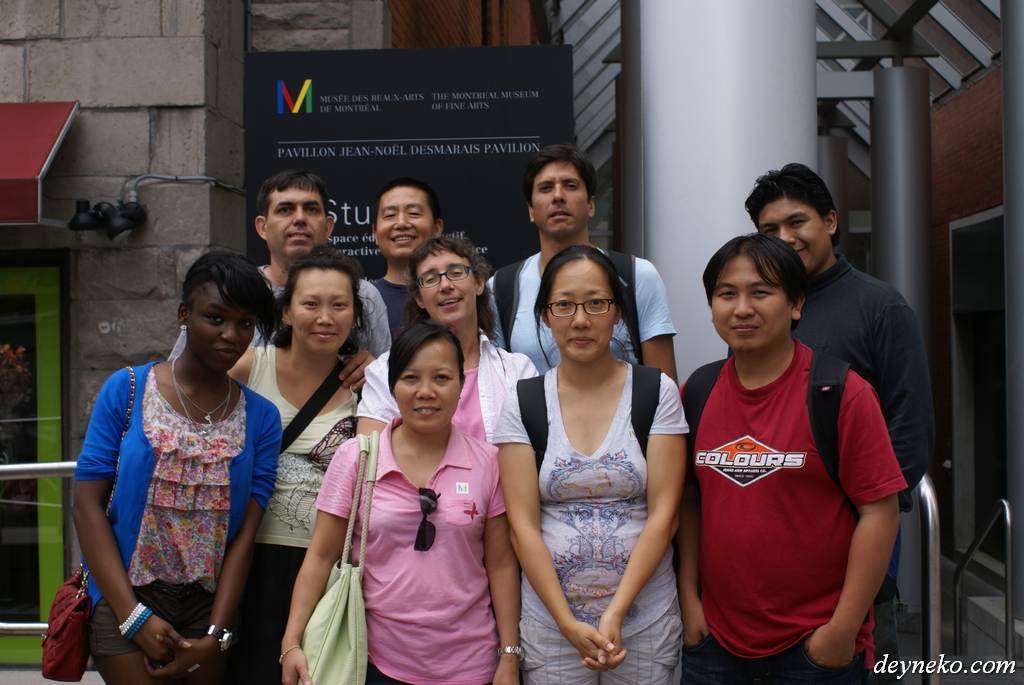 French lessons at train stations and terminals
Can you imagine – this is French lesson in one of railway station of Montreal.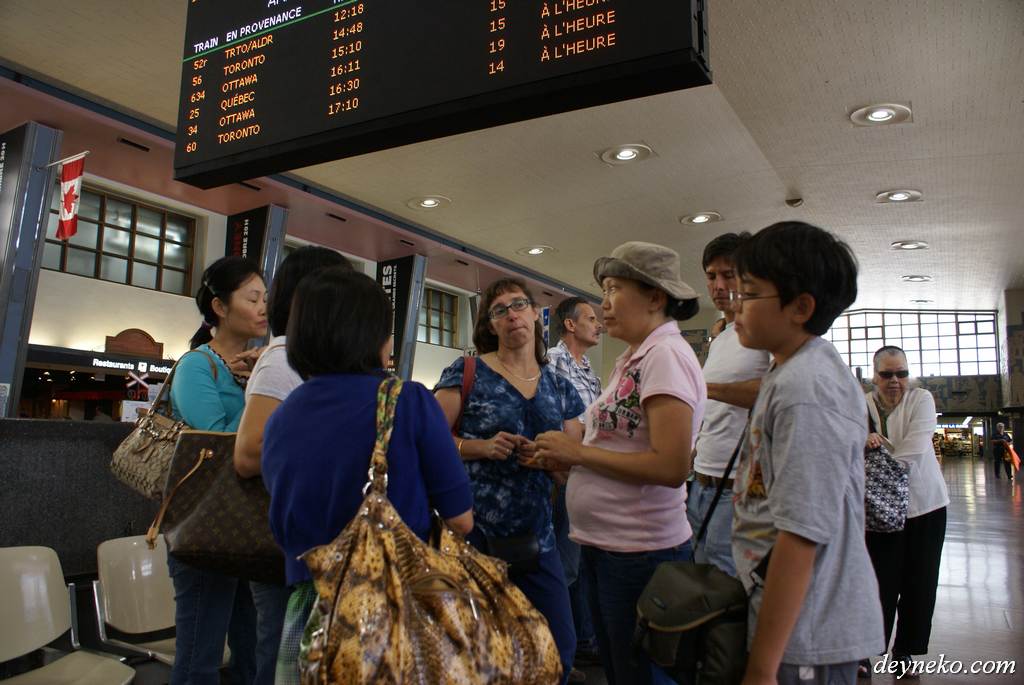 A work with study partner, today I work with Hector Marquez (Venezuela).
Alexandra worked with a study partner from the Phillipines, Helda Bunda. This lesson was at a bus station in the center of Montreal. Today we have a task to find out all information about traffic routes Montreal-Toronto (schedule, prices etc).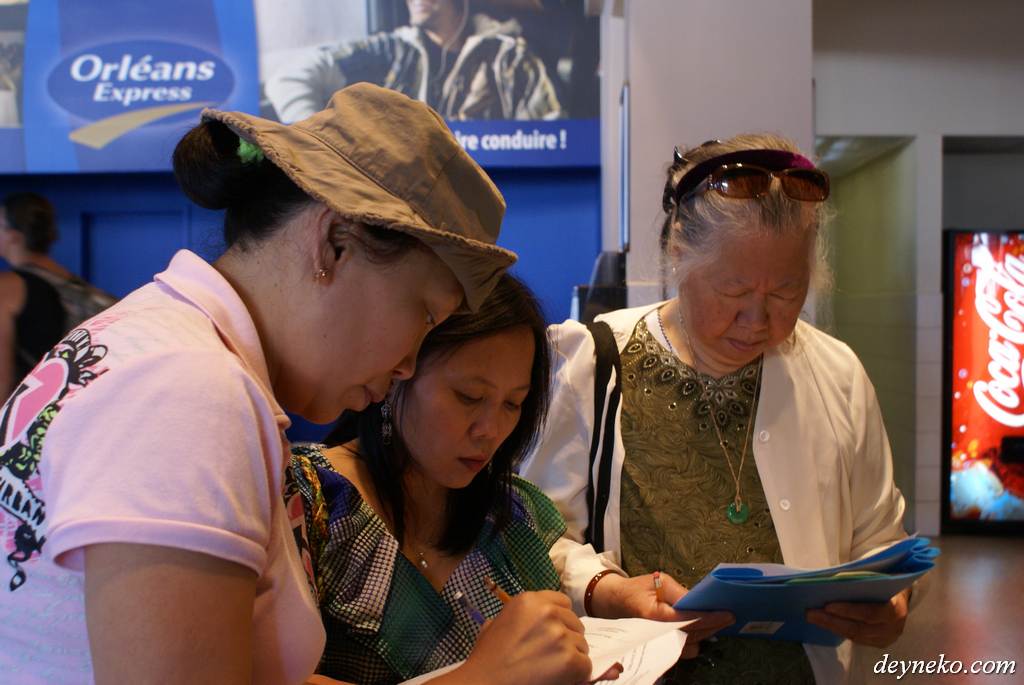 We performed task and found out all necessary information about buses Montreal-Toronto.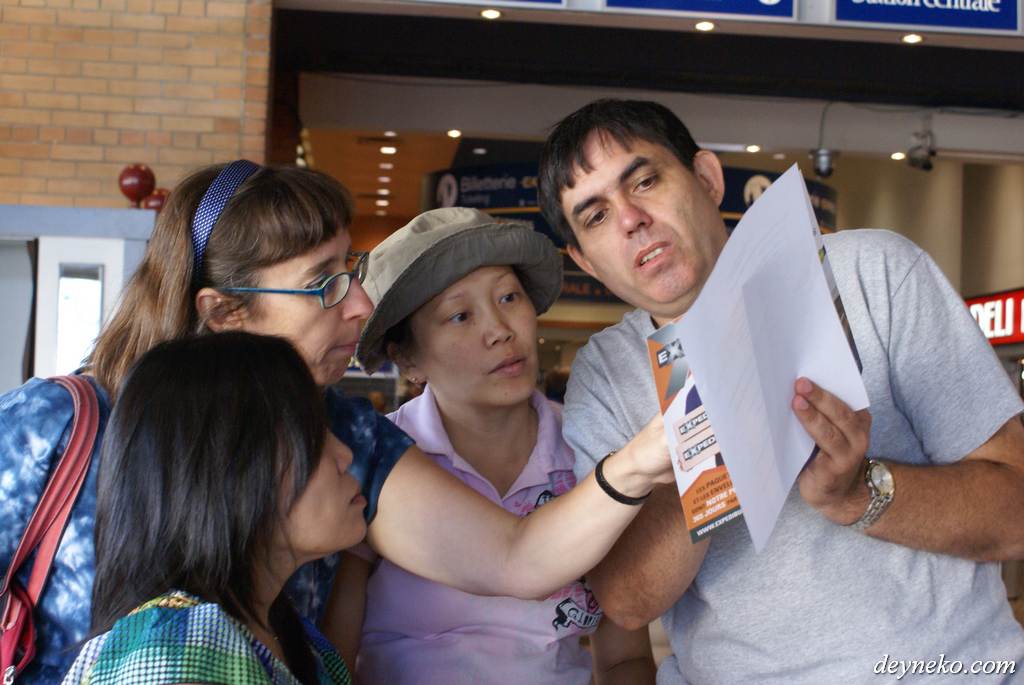 This skating-rink right in the center of a railway station.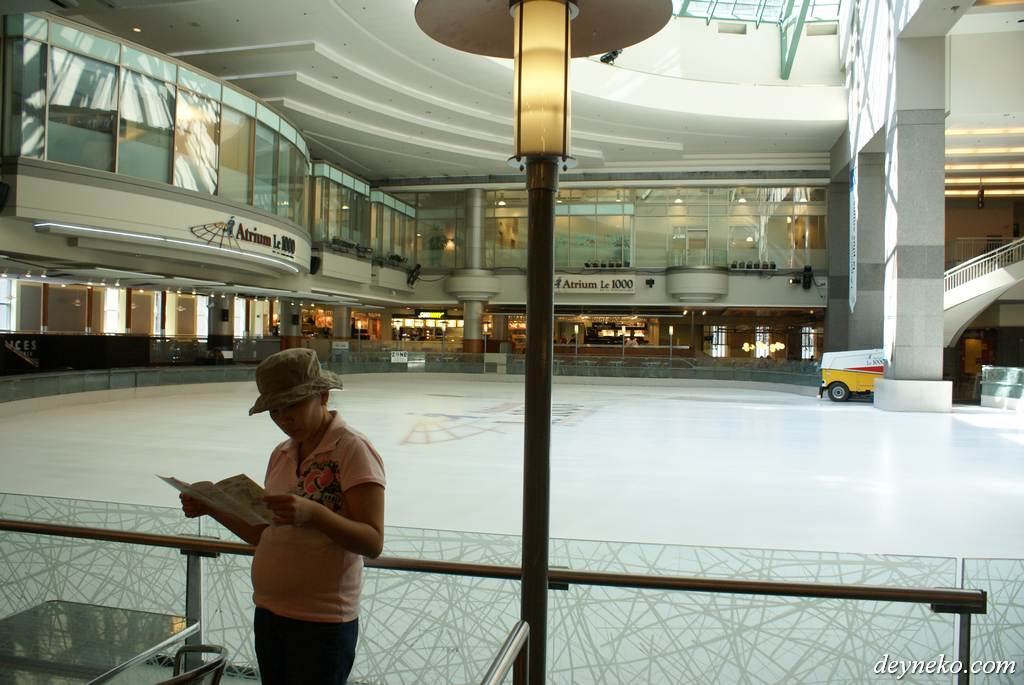 And now French lesson in the Angrinion park!
Presence is oblige so we confirmed it by sign.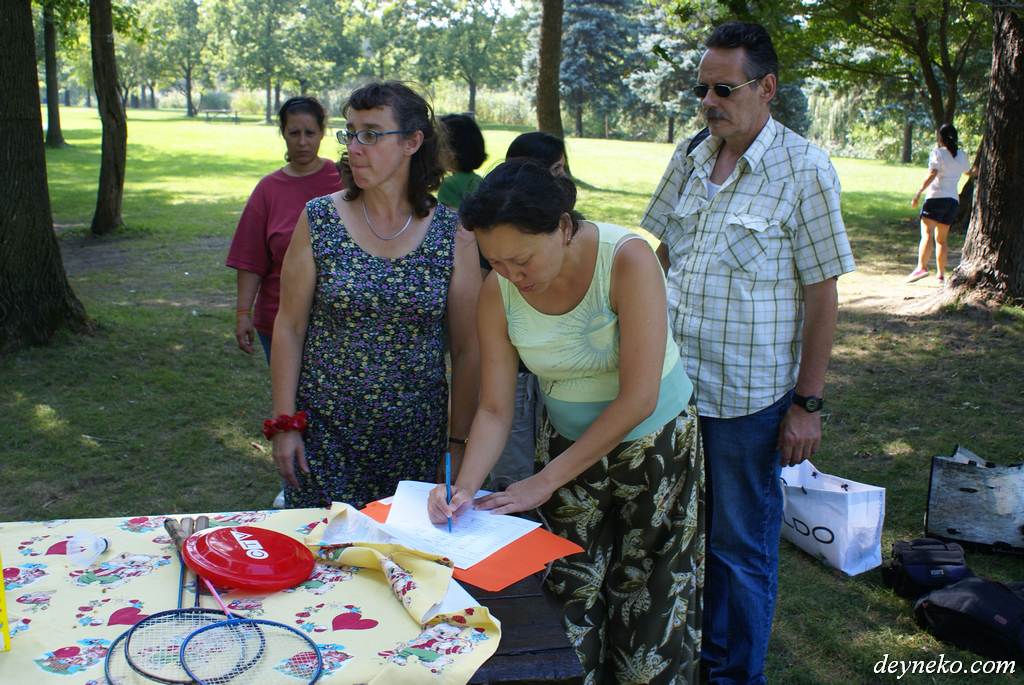 We started our lesson by this simple game 🙂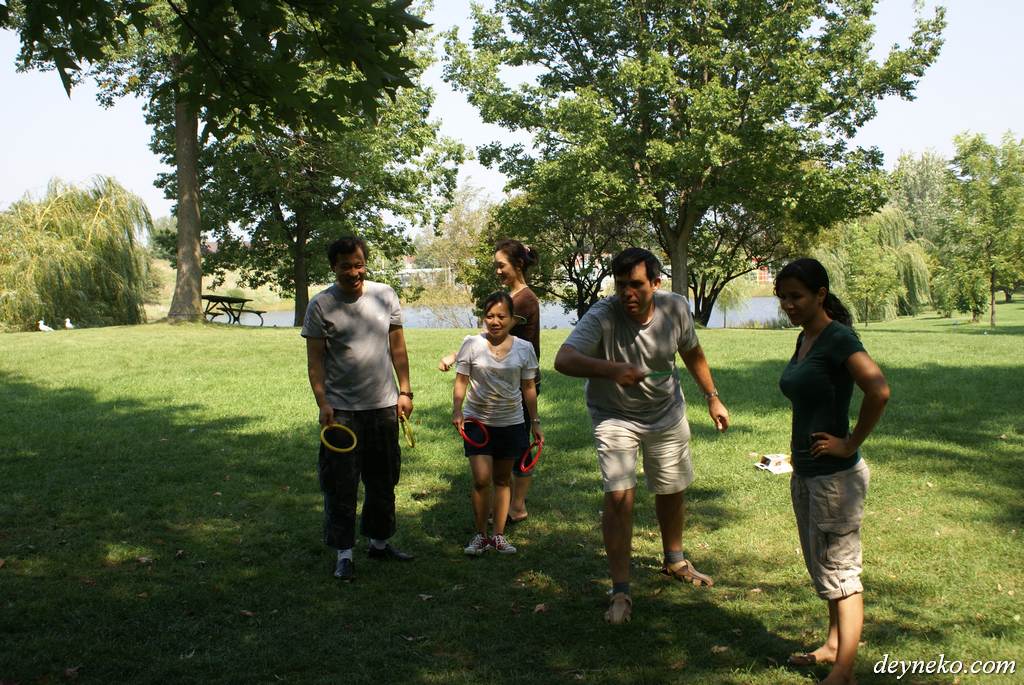 It is like a trivia game.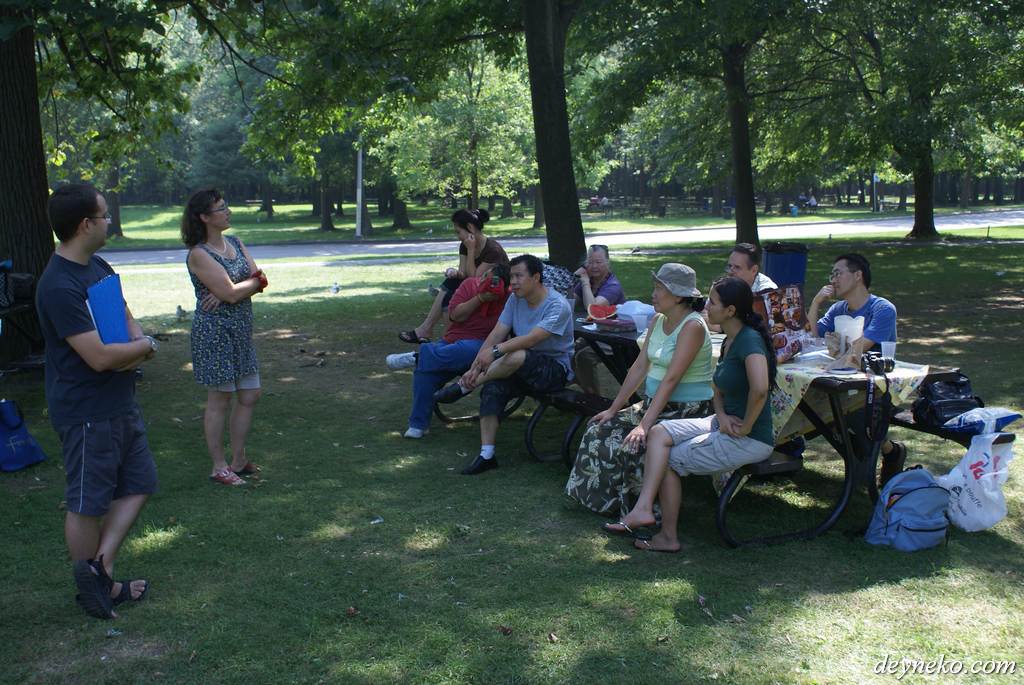 This is last lesson with teacher Veronique Barbet. Her contract is finished. But she said this is good. She explained that in her family there are 5 (!) boys + husband so she can't afford this recreation (i.e. work)… and long her absent is really disaster.
Well let's get back to the Champlain center. Russian – Belorus – Chine friendship.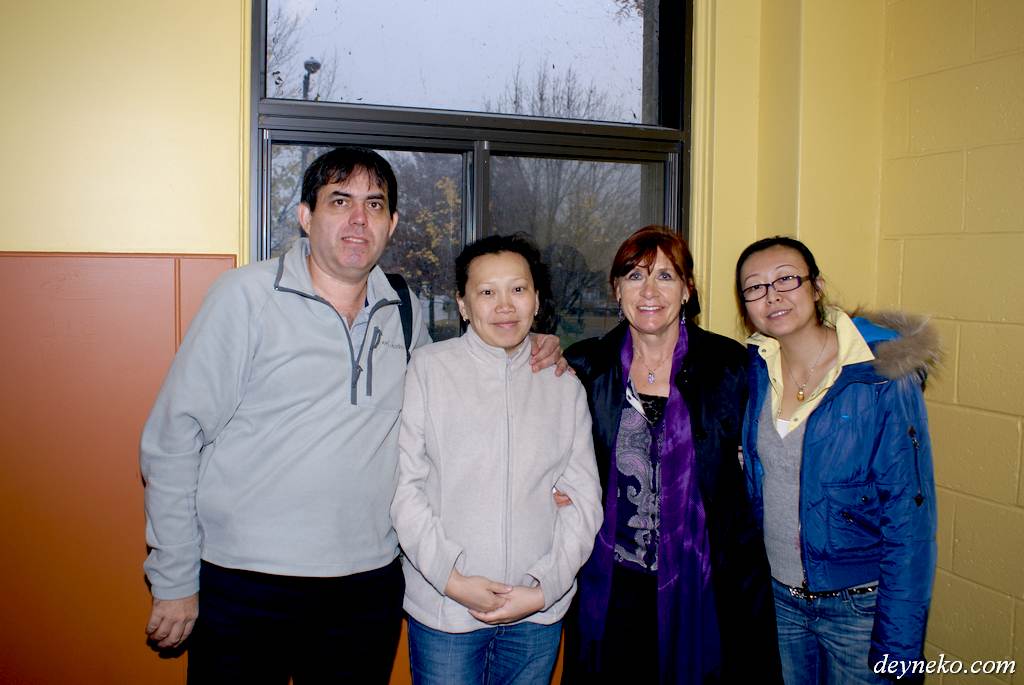 French language lessons with a lot of tasty!
This is not cooking course this is French course.
Actually each student cooked his national food and bring it to the lesson.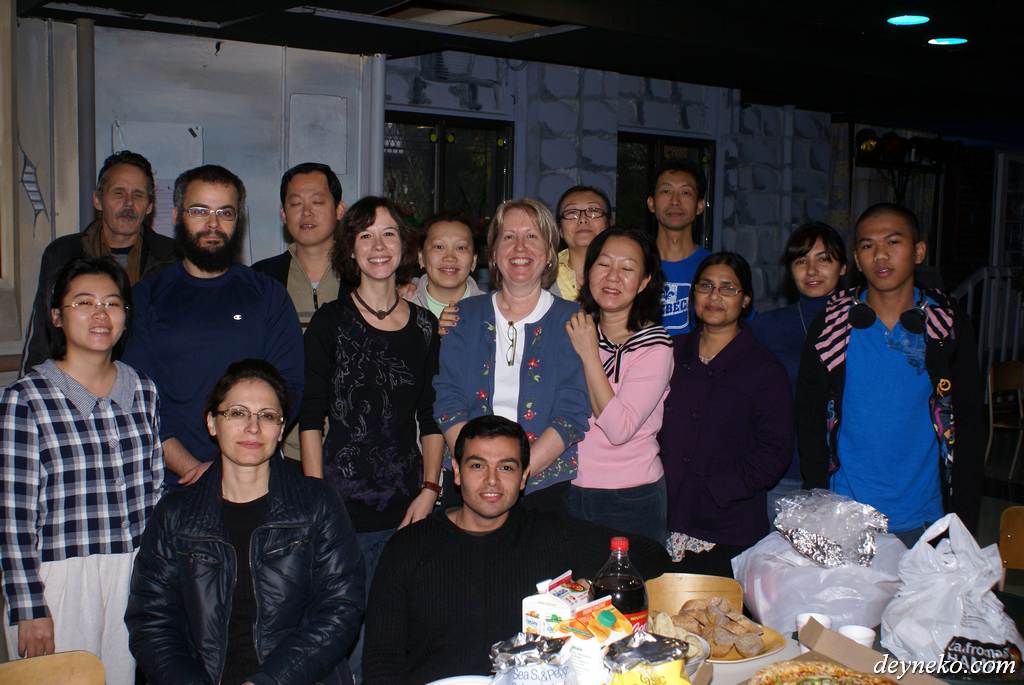 Don't look at Alexandra like that I eating for two.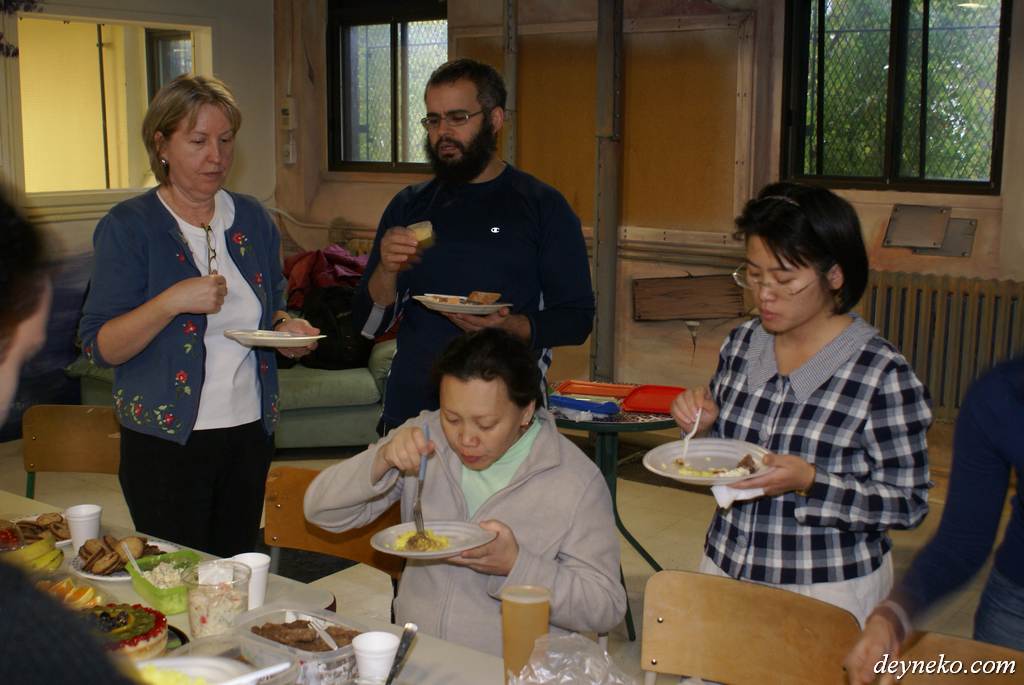 ---
Official information about Francisation program (Site of the Goverment of Quebec): PILI (Programme d'intégration linguistique pour les immigrants)