Hooray! I passed USMLE Step 1! And I would like share this my and my family victory with my relatives and friends.
For working as physician in USA or Canada you must pass exams and then underwent residency. The Step 1 it is the first exam and it thought it is most difficult. According official statistic in 2012 only 68% from IMG could passed Step 1 🙁 . In spite my score is not high it enough for my goal so I very glad.
After about a year of correspondence with the Educational Commission for Foreign Medical Graduates*, after dozens calls to Philadelphia where the ECFMG located, I was allowed to take the exam. Do you remember which country it was USSR? So I entered in my medical school in USSR but graduated in other country – Russian Federation! 🙂 And I as many other graduates received "old" medical diploma in "new country". Our university just didn't received "new" diplomas because there wasn't enough time to print new forms of diplomas and supply them to all universities and institutes. But me and my wife worked as physicians for 13 years in Russia as class mates and even didn't guess that there was a problem…
During discussion with the ECFMG about this problem I was not comfortable to answer the question, "did you pass Step 1?". This question each day was asked by my relatives, friends and colleagues. I was really tired of this question which I was hearing everyday throughout the past year…
OK, just some interesting things from the exam procedure. When you arrive to a special organization called Prometric center for taking USMLE exam, at the first, they compare your face with your official documents (i.e. driver license), but then something begins… they take your picture, then you give them your cellular phone, watches and all of your other belongings… Then you have other interesting procedures. Before you enter to your exam room staff takes your fingerprints and asks you to turn out all your pockets! And at the end they check you with a metal detector 🙂 Then you must undergo fingerprints, pockets turned, metal detector each time to enter examination room. My vest has pockets so I took it off to save time.
During first 3-5 hours of examination all was OK but from 6th hour it was difficult for me and my brain started to switch to "autopilot". As I stepped out from the examination room after 8 hours I was sure that I failed USMLE Step 1. When I got home I recalled that I made a lot of mistakes for simple questions! After such mental work you can forget what your name is. But I passed!!!
I decided to share my success with my colleagues at Jewish General Hospital (Montreal) where I doing research. I planned to celebrate this with small cake by the way the cake is in first picture. But my division surprised me… they organized real celebration and even they cooked lot of dishes.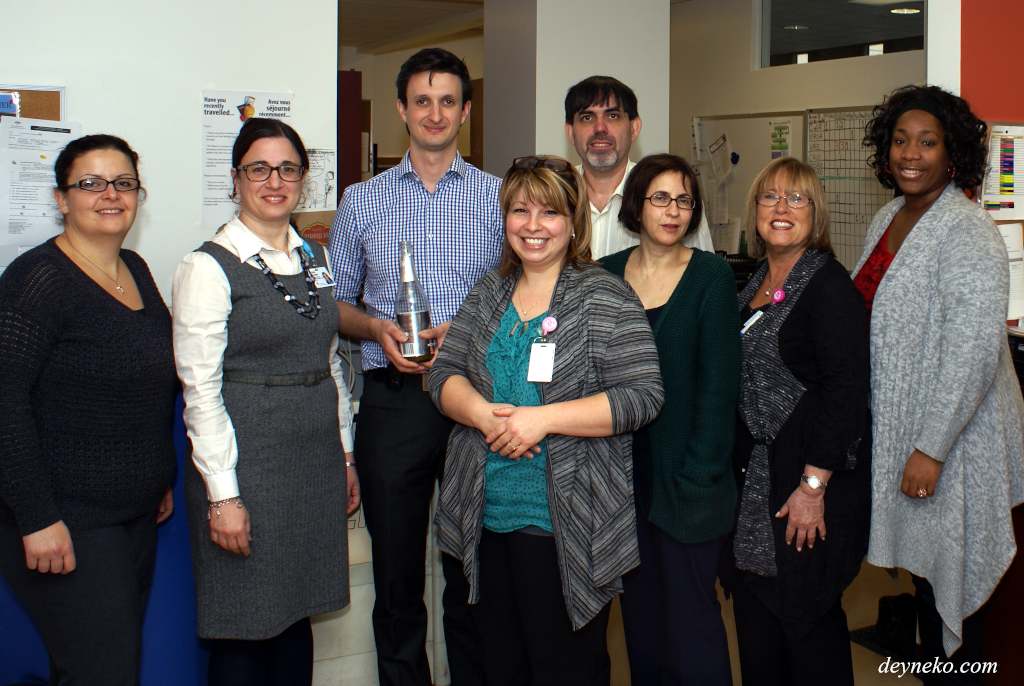 P.S.Our friends saw that there were many papers with USMLE Step 1 information for memorization on our kitchen walls. Immediately after passing these papers started peel off !

---
* Educational Commission for Foreign Medical Graduates (ECFMG)*: Official site.
Abbreviation USMLE: United States Medical Licensing Examination