Fedor Deyneko immediately jumped off the truck, run into the forest and fell in a bush. Germans began fire. They were unable to stop the truck on the uphill, which helped to courageous and lucky Fedor Deyneko
My father, Fedor S. Deyneko was born on February 15 of 1918, in Sladkiy khutor[1], Labinkiy district, Krasnodar region. He had one brother, Vasiliy, and two sisters, Anna and Nina.
Fedor Deyneko studied in Sladkiy's primary school from 1927 to 1932. Then he continued education in the Vosnesenskaya's school and graduated from there in 1937.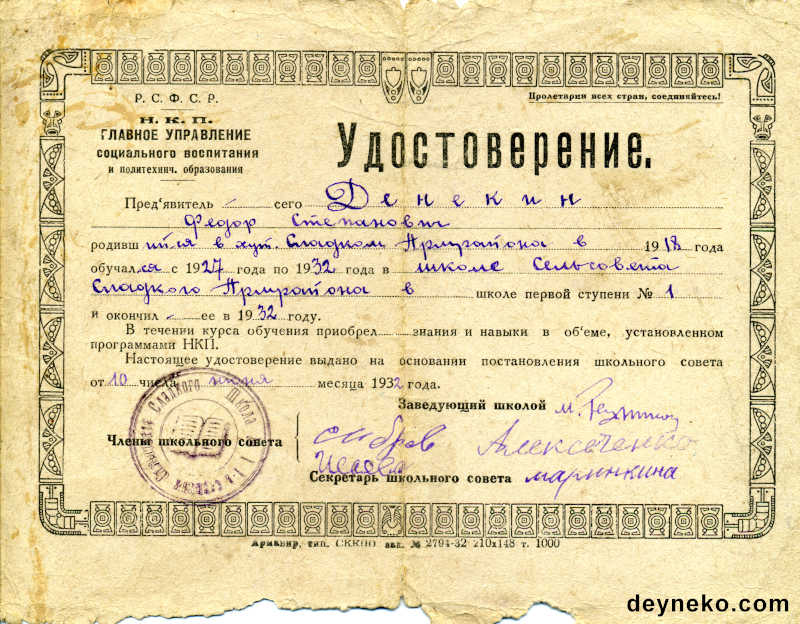 An eye transplant in 1935?
On August 16, 1935, Fedor Deyneko worked as a coachman. While he was transporting logs he received a severe injury to his left eye. The eye was removed in the hospital, but a doctor transplanted, according to my father, an eye from a sheep for a cosmetic reason (I don't understand how it possible?). Although Fedor Deyneko couldn't see with that eye, and the eye was a different color, it didn't look bad.
Getting a profession
In 1937 Fedor Deyneko entered Armavir's Vocational School of Meat Industry and graduated from it in August, 1938. There he received the profession of a butcher. After graduation he started to work in Armavir's meat cutting plant.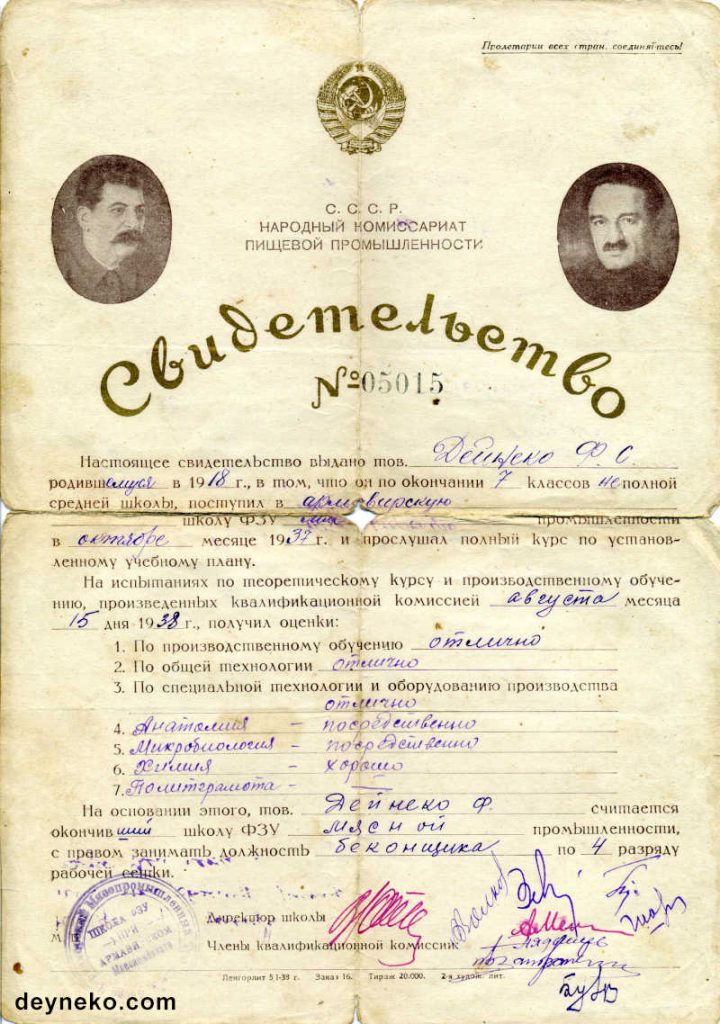 Dishonest policeman
On March 20, 1938, he resigned from the plant and went back home. In Sladkiy khutor he had a girlfriend. Fedor Deyneko found out that a local police officer had made a pass at his girlfriend. One day, after a dance party which was in the local Club, Fedor Deyneko and that police officer met on "a narrow path". It came to pass that the policeman pulled out a pistol, but Fedor Deyneko wrested the gun from his grasp and threw it in the grass. That evening the policeman couldn't find his gun and went home. Next day the policeman and his father came to see Fedor Deyneko's parents. The policeman and his father persuaded them to help them to find the service pistol. In return for help, the policeman promised keep this event a secret. But when they found the gun, Fedor Deyneko was arrested. He spent 2 years in a prison camp which was located in Archangelsk district. My father was told that they were building runways for military aircrafts.
WAR
A letter to his wife
Fedor Deyneko was released from a prison camp in November, 1941. Already had the Second World War had begun. He joined the army as a militia man because he was a person with a visual disability. Before he went to the front lines, he married Valentina Khokhlova. She was evacuated from blockaded Leningrad and lodged with Fedor Deyneko's family.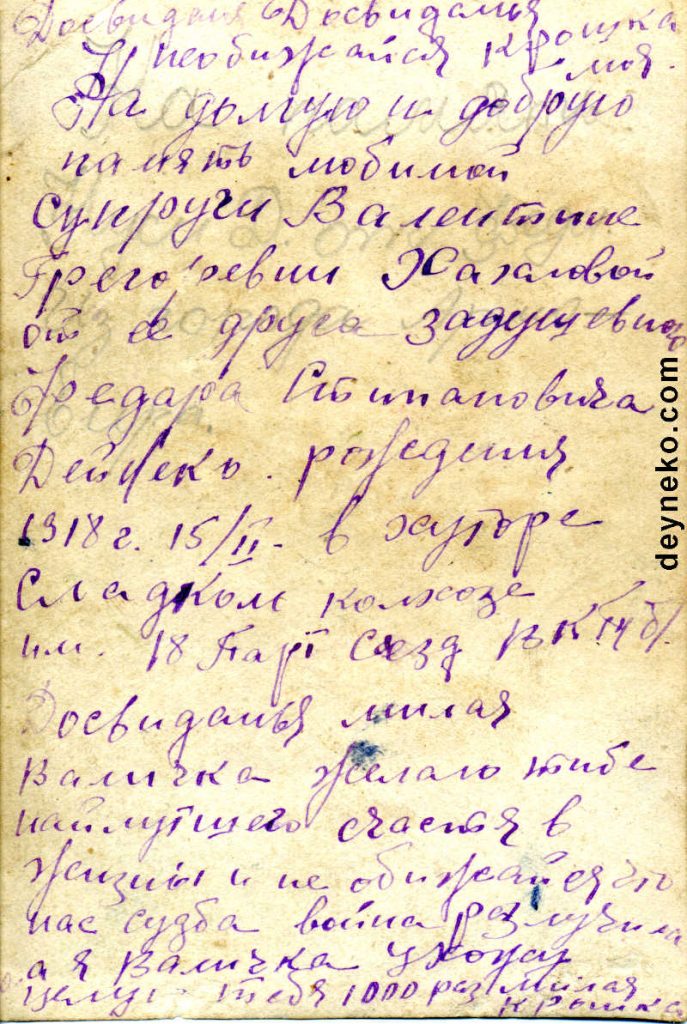 A traitor
Such was the story… After a train had arrived with our soldiers who were going to the front lines, the fascist's bombers immediately appeared. The same situation occurred with the trains carrying wounded soldiers from the front lines they were attacked by bombers in a short time after arriving. It was hard and difficult work after the bombings to bury those killed, collect body fragments, and carry the wounded to the hospital.
Once, Fedor Deyneko saw a man in a telephone box. That man worked with a radio transceiver. Fedor Deyneko immediately reported this to Lieutenant Morozov (name and middle name are unknown). The lieutenant asked Fedor Deyneko to help him catch the man. "You distract that man and I will seize him," said Lieutenant Morozov. They were very surprised after they had captured the man. The traitor was the station master, he was ethnic German. He informed fascists by the radio about trains' arrival. Leutenant Morozov reported about the traitor to his command and awated instructions. But during this time, German forces had breached the defense, the situation was unstable, and the lieutenant made the decision to shoot the traitor and tell Fedor Deyneko to fulfill the order.
Saving the commander
Following another bombing, Fedor Deyneko had been wounded and was hospitalized. When the fascists breached the defense line and were increasingly close, Leutenant Morozov came to the hospital and asked Fedor Deyneko if he wanted to retreat with the hospital or with his engineering detachment. He said that he wanted to retreat with the engineering detachment. While they were evacuating on a train, German sabotage demolitionists destroyed the railroad tracks in front of the train. Everyone started jumping off the train. Fedor Deyneko, his friend Ivan and the Lieutenant were on a platform, and they jumped off the train too. Fedor Deyneko and Ivan jumped successfully, but Leutenant Morozov had unlucky jump and injured his spine. Fedor and Ivan decided to hide their commander. Fedor Deyneko recounted to us, "We dragged him to the third hut from the elevator, because it he was refused in the second hut. So, we left him in the third hut. Ivan told me where the Lieutenant's wife lived and asked me find her, because she could find a car to transport the Commander to his home. Then, Ivan went home."
And Fedor Deyneko went. When he reached the road, the German forces were already there. One of the vehicles stopped and a German soldier called out to Fedor Deyneko. The soldier offered to give him a lift. My father had said that he was really scared, but he didn't argue. He said good-bye to the world in his mind and took a seat in the track. He was sitting among German soldiers and was praying to God that they hadn't guessed about his wound. After they had reached the Thikhoretskaya station and the truck began turning right, Fedor Deyneko asked to stop and jumped off the truck. The Germans started to laugh loudly and Fedor Deyneko thought, "that's it… there will be a gun shot…" But surprisingly, the truck started to drive away and the Germans were waving back. He found the Lieutenant's wife, they found a car and got the Lieutenant home.
Escaping from the Gestapo
In the end of August, 1942, Fedor Deyneko returned to his village. German regime was already here and it was controlled by the hilfspolizei made up fo local colaborators. In a couple of days, apparently on someone's denunciation, my father was arrested. They took him away to the Voznesenskaya in the prison. The prison was located in the basement of the Gestapo. There, Fedor Deyneko met an acquaintance who served at that time in the hilfspolizei, and asked him quietly to release him. But in return, that collaborator hit my father with the butt of his rifle. Then, bit by bit, my father loosened a prison bar on the window and suggested escaping to another friend who was there as well. That friend refused to escape, but Fedor Deyneko escaped one night.
When he came home, he said to collaborators from the hilfspolizei, when they questioned him, that he was officially released. But then, they send him to harvest timber in forests for the German army. In the truck he traveled in, he sat at the tailgate, and in front of him was German soldier with a submachine gun. When they reached the point where the mountains and the forest began, the German fell asleep. Fedor Deyneko gestured to another German soldier who was sitting in the front, that he wanted to jump off the truck. The German nodded. Fedor Deyneko immediately jumped off the truck, run into the forest and fell in a bush. Germans began fire. They were unable to stop the truck on the uphill, which helped to courageous and lucky Fedor Deyneko. I don't know where my father was hiding; he said something about partisans but he wasn't involved with them. Germans left the Labinsky district in the beginning of January, 1943.
After the War
My father came back to his village and began to work. In 1944, he was sent to the Armavir's school of farm machine operator. He graduated from the Farm machine operator's school in March, 1945 and began to work at the Upornaya's machine and tractor station.
During the war collective farms were destroyed. One part of their tractors and vehicles went to the front, the the rest were destroyed by the fascists.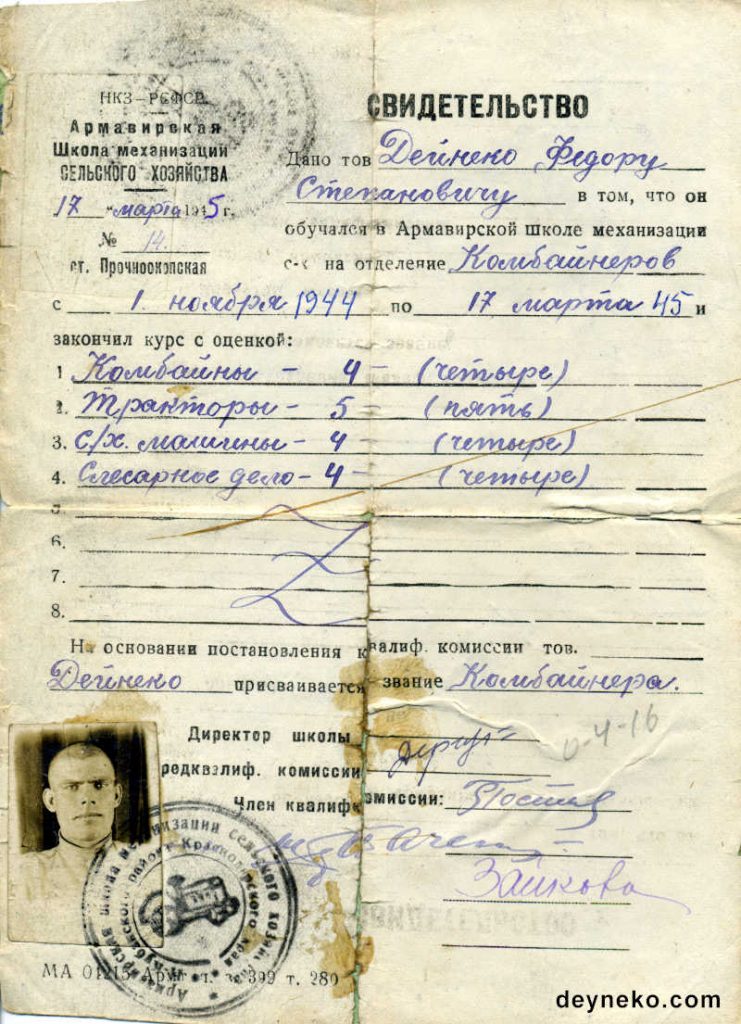 For this reason the Upornaya's machine and tractor station works served several collective farms. We saw our father very rarely because he was extremely busy… I remember our meetings, when he appeared at home; he tossed up me and my brother. This was happiness! He smelled of sweat and diesel. Mother was busy about the house. She warmed up water for washing and made preparation for meals. Unfortunately, it was rare. The Machine and tractor station tried to send their workers not too far, but the working day lasted from sunrise to sunset. Often, they stayed overnight on fields.
Overzealous patriot
In the summer of 1945, my father worked on a threshing floor. In the fields they mowed grain with scythes and sickles because, as I said, there were few tractors. On the threshing floor there was a tractor which couldn't operate but its engine could work. This tractors' engine was turning winnowing machines and threshing machines and Fedor Deyneko controlled this process. Women, teenagers and old men passed sheaves, threw back separated grains and bagged it. It was very hot one day and this motor overheated. My father stopped the mechanism to prevent its damage. As luck would have it a person from the district Party committee came. She started to shout at my father. Although he explained the reason for the stopping the mechanism, she didn't listen. She said that my father was a saboteur, then she took him aside, pulled a gun, and she threatened to execute him according to wartime protocol. Fedor Deyneko started the mechanism and in a short time it broke down, then he asked her, "And what will we do now?"…
May be such strict rules could help during wartime, but common sense must prevail!!!
Retirement
Fedor Deyneko worked at the Upornaya's machine and tractor station until January, 1959. At that time the younger generation replaced those killed in the war and those old men who had long since left. It was time for my father to change to light work. He was transferred to a construction brigade where he worked as a carpenter until his retirement.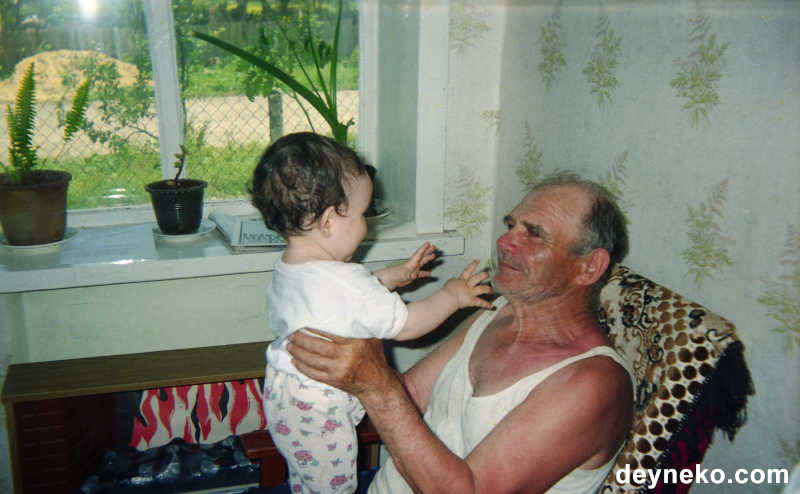 ---
Khutor is a very small village.
Khutor Sladkiy: official site (Rus)